Yahoo's Search Life After Google
Brian Klais, Vice President of EBusinesss for Netconcepts adds his views on what Yahoo!'s announcement that it would stop using Google's search technology in favor of its own search engine will mean for catalogers.
In an interview with MultiChannelMerchant, he notes:
Yahoo! has bumped up its threshold limit – the amount of a site that it will crawl – to 500k. "This means that catalogers can include more content on product or category pages," Klais says. In comparison, Google looks only at the first 100k of a site's content.

If a cataloger's site contains a lot of content in which, say, customers have contributed testimonials, "it's a great thing because it'll influence Yahoo's search rankings," Klais explains. On the other hand, "Google won't even index it if it's more than 100k."

President of Netconcepts went on to say:

"we've found the conversion rate on e-commerce sites tends to be higher with Yahoo! users vs. Google users. Yahoo! users are more shopping oriented than Google users, who are more research oriented."

Before rushing to make wholesale changes, Spencer says, you "need to study Yahoo!'s search results and experiment with your pages to see the impact on rankings. For example, you can evaluate how important the title tag is by changing it on some pages and seeing what that does to your Yahoo! rankings."

What's more, while Yahoo! currently accounts for 30% of all U.S. searches, that number could decrease should Web users find Yahoo!'s search ineffective or otherwise unsatisfactory. "If users find the Yahoo! search less useful than it used to be when they were using Google results, then Yahoo! risks a mass migration of search engine users to Google," Spencer says.

Comments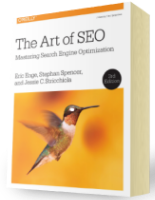 Chapter 7:
Content Marketing
From the fundamentals of link building to the nuances of natural linking patterns, virality, and authority.
Get Free Chapter