President Carter's blogging experience
"As a means of raising the profile of The Carter Center and driving traffic to our Web site, Stephan Spencer suggested that President Carter write a blog. We took that suggestion, developed a strategy around a trip to the West African countries of Togo, Ghana, and Mali, and posted regular blogs from President Carter (with photos, sidebars and news stories, and links to related material on our site) over the course of eight days. Although he had written reports from the field on previous trips, this was his first experience with the blogging phenomenon and he was eager to participate.
The blogs, which we marketed via press releases, through partner organization Web sites, and via the Google AdWord program, garnered significant increases in visits to our site, resulting in an average quadruple our normal daily average. We have sustained a significant increase in Web traffic since February 2004, building on the momentum of the blog project, which we intend to repeat both with President Carter and others here at the Center.
We are grateful to Stephan for planting the seed for one of the most successful Web projects The Carter Center has undertaken to-date."
Connie Nelson
Communications Specialist
Office of Public Information
The Carter Center
Comments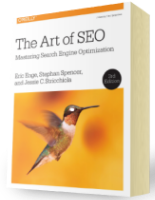 Chapter 7:
Content Marketing
From the fundamentals of link building to the nuances of natural linking patterns, virality, and authority.
Get Free Chapter