Case Study: Carter Center
The Carter Center was founded by former U.S. President and Nobel Peace Prize Laureate Jimmy Carter and his wife, former First Lady Rosalynn Carter.
The not-for-profit organization's mission is to wage peace, fight disease and build hope.
Problem:
The CarterCenter.org site was almost completely invisible to Google, with only perhaps a dozen Web pages indexed, and a smattering of PDF documents. This is due primarily to the search engine-unfriendly URL structure. The use of Javascript-based pull-down lists as navigation within parts of the site, and reliance on Flash for navigation within parts of the site, also contributed.
In addition to their search engine visibility problems, The Carter Center was also looking for guidance on innovative online marketing strategies: ways they could get noticed online and generate interest in their organization.
Solution:
To solve the Carter Center's search visibility problem, Netconcepts implemented URL rewriting on their server and recoded the URLs across the site to use the new, search engine-friendly URL structure.
With regard to online marketing, we came up with an idea for President Carter, and that was to start a blog*. Back in 2003 when we first suggested this idea, it was a really "out there" idea for the Carter Center to consider.
Blogging since then has become quite a bit more mainstream. During one of President Carter's trips to West Africa he blogged for a total of eight days; not very long from a blogger's viewpoint, but certainly long enough to generate a significant amount of buzz in the blogosphere and PR.
Results:
Within a month the Carter Center site shot up to over 2500 pages in Google — their entire library of content. This yielded significant traffic increases. As of yet, the pages are not optimized to "sing" to the search engines, but just getting them indexed has been a huge help to their traffic and visibllity.
As for the blogging, it has been hugely successful, as Connie Nelson in the Office of Public Information at The Carter Center attests:
"We are grateful to Stephan for planting the seed for one of the most successful Web projects The Carter Center has undertaken to-date."
President Carter's blogging stint — the first presidential blog — garnered him a significant number of links from other blogs and websites, as can be seen, by searching Google for carter "west africa" blog -site:cartercenter.org — yielding over 27,000 pages that mention President Carter's blog!
—
* What is a blog?
A blog is "a frequent, chronological publication of personal thoughts and web links" — a kind of hybrid diary/journal/guide site. And it's a powerful marketing tool, when written by an authority on a particular subject.
Comments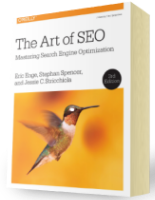 Chapter 7:
Content Marketing
From the fundamentals of link building to the nuances of natural linking patterns, virality, and authority.
Get Free Chapter