Capturing the click through compelling meta descriptions
"The meta description is an important element of your on-page SEO, yet its value is often underrated. Viewing everything in terms of search engine ranking impact blinds us to the opportunity that meta descriptions present search marketers," writes Stephan Spencer, President of Netconcepts. Stephan reminds us, in this article on his C|Net blog entitled, "Searchlight: an SEO Blog," that meta descriptions shouldn't be overlooked and they are quite valuable to SEO. To read more about meta descriptions with some pertinent examples, click here to read the full article.
Comments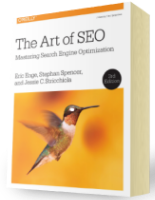 Chapter 7:
Content Marketing
From the fundamentals of link building to the nuances of natural linking patterns, virality, and authority.
Get Free Chapter