Cabela's Learns Valuable SEO Lesson
For the worldâ??s foremost outdoor outfitter, Cabela's, ecommerce landing page have made all the difference. Derek Fortna, Marketing Program Manager for Cabelaâ??s, has been implementing best-practice search friendly marketing since his switch to Netconcepts' GravityStream platform.
"With the earlier system, he says, â??If Iâ??m a user searching for boat trailer parts, I canâ??t buy from that page, I have to make another click to go into the web site to make a purchase. With the GravityStream proxy, if I find what I want I can place the order right there.â??
Read the article here.
For more information about Cabela's success with Netconcepts, read the Cabela's Case Study.
Comments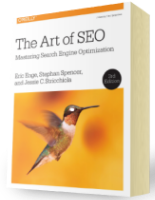 Chapter 7:
Content Marketing
From the fundamentals of link building to the nuances of natural linking patterns, virality, and authority.
Get Free Chapter