Case Study: Cabela's.com
Print version available here.
With a selection of more than 200,000 distinct skus, Cabelaâ??s was searching for a way to get more of their Web pages competing for unbranded â??long tail? search terms. They first partnered with a SEO firm that optimized a handful of static category and product pages, but soon found that that was not enough. Their vast product selection and constraints of their dynamically-driven Web site called for a solution that was scaleable across their entire website and went far deeper into implementing best SEO practices.
In collaboration with Cabelaâ??s, Netconcepts launched a search optimization solution in September of 2006 to gain greater visibility in the natural search results of major search engines.
Goals
Free SEO efforts from IT dependencies
Maximize natural search brand visibility
Increase search traffic and revenue
Solution
GravityStream provides a simple to implement search engine optimization solution that delivers measurable results without requiring extensive IT resources.
Netconcepts initiated such a program for Cabelaâ??s. They created a real time, crawler friendly version of Cabelaâ??s ecommerce site, giving them the flexibility to optimize the existing pages of their website without having to rebuild their current site. With the addition of page optimization, Googleâ??s PageRank is allowed to flow through the site and boost Google rankings on a wide range of relevant non-brand search queries.
Results
GravityStream empowers Cabelaâ??s marketing team with control over the natural search channel.
GravityStream shattered indexation goals by 45%. This lead to 200% more traffic and 50% more sales.
Cabelaâ??s brand is well positioned in over 200,000 long-tail search markets, with over 40,000 pages driving traffic.
?We have seen an impressive 50% increase in year over year organic search sales using a powerful new approach to SEO. Best of all, we didnâ??t have to change our core website. GravityStream gives me the flexibility we need to systematically manage our organic search business.?

– Derek Fortna,
Marketing Programs Manager, Cabelaâ??s, Inc.
Comments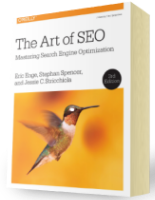 Chapter 7:
Content Marketing
From the fundamentals of link building to the nuances of natural linking patterns, virality, and authority.
Get Free Chapter