Build Linkworthy Content and They Will Come
If your blog isn't linkworthy, it's not going to get very far in the blogosphere. Indeed, links are the currency of the Web, at least as far as search engines are concerned. No links = no rankings, and lousy links = lousy rankings.
One might even go so far as to valuate a business blog on its links (at least in part). For fun you might try out the free tool at the Business Opportunities Weblog and see how much your blog is worth. The computation is based on the link-to-dollar ratio of the AOL-Weblogs Inc deal. According to the tool, this blog is worth $200,000. Anyone want to buy it from Rick? 😉
So how do you make linkworthy posts? In The Art of Linkbaiting, Nick Wilson and commenters offer some great suggestions:
Offer a niche-specific blogroll, tool, How-To, or compilation of news stories.
Post a scoop.
Expose a story as flawed or a fraud
Be a contrarian about a story, product, or prominent blogger's opinion.
Be humorous. Good topics include a bizzare pic of your subject, "10 things I hate about…", and "You know you're a when…"
Publish or commission some original research
Creative-Commons-license photos you made of an event you're blogging about
Make available for free a theme, plugin or piece of software
Start a meme that others can replicate and that links back to you (e.g. buttons/stickers/tools for bloggers/webmasters to post on their sites, contests, quizzes, surveys, etc.)
Building links is both art and science. It requires a great toolkit as well as loads of creative ideas.
MarketingProfs is holding a webinar on Feb. 16 on the topic: "Inside Secrets to Building Links for Online Publicity, Buzz and Search Engine Optimization". The undisputed link guru Eric Ward and I (Stephan Spencer) are both presenting. Sign up here.
Comments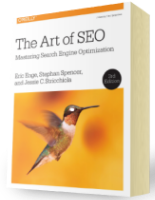 Chapter 7:
Content Marketing
From the fundamentals of link building to the nuances of natural linking patterns, virality, and authority.
Get Free Chapter