Thought Leaders on Marketing Blogs – Part 1
How do you make a solid business case for blogging for marketing? What about managing upper management's expectations on the outcome? Should you hire a professional blogger to write your company blog?
To get answers to these questions and others, MarketingProfs called a Thought Leaders Summit, mustering some of the best minds in the marketing and blogging. In a 90-minute session, we tapped into the wisdom of the following gurus in Internet marketing and business blogging: Toby Bloomberg (Bloomberg Marketing); Seth Godin, Shel Israel (Conferenza), B.L. Ochman (whatsnextonline.com), Steve Rubel (CooperKatz & Co), Robert Scoble (Microsoft), Doc Searls (Linux Journal) and Debbie Weil (WordBiz).
The experts also revealed their most effective blogging tactics. They discussed what business bloggers must refrain from in order to become accepted members of the blogosphere, and they talked about tips for getting syndicated onto other people's Web sites and blogrolls.
Finally, our experts told us about their heroes and mentors, and they gazed into the crystal ball to see what the blogosphere will look like in years to come. Their ideas on those issues are distilled in the second part of this article, to run next week.
Making a Solid Business Case for Blogging
With almost 10 million blogs out there today, blogging is not just a passing fad. It's here to stay. And the early birds –those companies that get a head start –are likely to achieve celebrity status, generate buzz and garner attention in mainstream media (at least for a while).
If you work for an organization that needs statistics and proof that blogging is going to pay for itself right away, you'll fall into the trap of doing it for short-term gain. And if that's your intent, your blog is going to fail. In fact, you are likely to end up sabotaging the entire operation.
Marketers and business people need to take a long-term look at the strategy of why a company is going to put resources, people and dollars into what is essentially a new marketing tactic.
Obviously, businesses need to address the return on investment (ROI) issue. After all, they are not going to sink funds into a marketing strategy that doesn't produce results.
Yet, a blog is a tool, like a hammer to a carpenter. The carpenter doesn't demand an ROI on his hammer. Nonetheless, a blog can serve as a mighty powerful "hammer" in capable hands. For example, there's plenty of anecdotal evidence of success stories, such as Firefox, which allegedly got 25 million downloads essentially off word-of-mouth that was ignited by blogging. How do you model the ROI of that?
In a similar vein, asking for the ROI of a blog is rather like asking for the ROI on a press release. Just as you can measure a press release by the number of images in the media, and the number of people knocking on your door and buying your product, you can measure blogs by search engine rankings. And you can measure those search engine rankings by people knocking on your door.
Let's say you're a plumber in Seattle and a prospective customer with a leaky basement pipe is searching Google for a plumber in Seattle. You obviously want to pop up on that first page of Google's results. But how would a blog help that plumber get there?
It works like this: Inbound links weigh very heavily in Google's algorithm. That is, a plumber with many inbound links is going to rank ahead of a plumber who has very few inbound links.
How do you get inbound links? For one thing, you refresh your site often with new content. After all, nobody's going to link to something that hasn't been updated since 1998. Blogs by their very nature are frequently updated with new and interesting information, thus explaining why bloggers are so successful in garnering links.
Furthermore, those links tend to have keyword-rich link text (the underlined words), which is also key to getting to the top of Google and other engines. If, for example, you name your blog "B2B Lead Generation Blog," the next thing you know you're going to be number one for "b2b lead generation" in Google. It's a powerful tactic.
Finally, underlying the blogosphere is the concept and culture of blogs — the talk of people. The best blogs are ones written by human beings, not corporations — people that have something to say that other people want to hear. Blogs are a way of opening up conversation, encouraging people to actually talk to the people behind company walls. Just as customer service departments produce bottom-line results, so do blogs.
Managing Management's Expectations
It would be fair to say that managing upper management's expectations is an issue that polarized our panel! But on one thing they all agreed: Blogging for business is no short-term moneymaker or revenue driver.
With estimates of some 25 billion blog reads out there each day, marketers have to manage expectations of management, who might envision that 5,000 people will read their blog every day. You need to strip away such expectations. Five thousand readers a day is inconceivable.
Here's why: Companies that fell for the hype of the World Wide Web and built a really expensive needle in a very large haystack are now spending all their time hoping they're going to get more hits than the search engines. Do not make the same mistake with your blog.
The reality is this: A blog will not lift your sales tomorrow. A long-term focus is what's required.
A blog is a great addition to your marketing mix, alongside your content-rich Web site, your compelling e-newsletter and your RSS channel. It's also part of your public relations mix and your branding mix.
Blogs are very effective in increasing search engine rankings. As already stated, search engines like them because they are frequently updated and are richly interlinked.
Add Really Simple Syndication (RSS) to the mix, and you expand your reach to include not just people who are subscribed to your blog but people who are subscribed to searches across the blogosphere. If they're subscribed to a search about your topic, all of a sudden anybody who is interested in that topic can read your blog if you're writing about it. It may take you from an audience of one to 50, 100 or 1,000 people — just because you wrote about that topic.
And if you link to particular bloggers, and they see links from you in their watch lists, they are going to want to reciprocate and blog back. There's an ethic about reciprocation in the blogosphere, and many bloggers like to link back to people they haven't heard of before.
Several of our panelists use blogs in really innovative ways — to promote and sell books, for example. Another panelist has a client who is a photographer and author in the process of writing a book; his blog is successfully driving people to his Web site to purchase his photographs.
Some Business Blogging Prerequisites
Before you get started, there are questions that need to be asked. Can you be totally transparent as a company? Can you handle negative feedback? A blog is a Web site tool that allows and encourages all kinds of feedback — in fact, that is what happens on all good blogs.
A blog can be powerful in changing a company culture and the way the company sees itself. It's about very specific groups listening to a human being within a company, so that they can hear the story behind that company — the story the company wants to tell. And if these bloggers can do that without being hamstrung too much by internal politics and if their stories are good and their ideas are worth spreading, then over time they'll spread. Do you have a story to tell?
Blogging takes some skill as a writer and as a storyteller. You have to say something that's worth reading, start a conversation worth engaging. If you approach blogging in the same sort of selfish PR way that corporations love to do, then consumers who have a choice — and they all d — will unanimously reject you.
Blogging can be hard slogging. But for some — those who are "born bloggers" — it just comes naturally. Senior management are advised to find the born bloggers on their staff. They don't have to be in marketing — in fact, in some cases it's better that they're not. It's about knowing instinctively what to say and what not to say.
A writer doesn't produce content. A writer says things that he or she thinks are going to change the world. Before you know it, commenters come in, add value to it, and by the time the idea has been chewed on by many different people… it's become a much bigger and better idea than when it was yours alone.
That's what happens with markets and conversations. It becomes everybody's idea. You can have many brilliant people inside every company who can bring ideas to the world and spread them. That's what blogs are really good for.
Every story needs an audience. And a blogger needs to continually develop that audience. That is a lot of work. Usually, people in management have neither the time nor the inclination to do all that is needed to really build and maintain a loyal following of readers. Blogs allow people with no HTML skills to be able to publish on the Internet. It's like sending an email to the world — like doing "cc: world."
Does this sound scary? If your company culture is fear-based, then don't do it. In a corporate setting, it can become untenable if everything has to pass through the legal department first. There are some companies that are probably never going to blog, those whose speech is, in fact, regulated, (e.g., pharmaceutical companies).
With that said, it's almost better to look at blogging as a way of preventing lawsuits than avoiding them. If you are a corporation, you need to tap into what people are saying about you in the blogosphere. People are talking about you anyway. There are, no doubt, companies in which the CEO or upper management would rather a have root canal than deal with citizen journalism on a daily basis. The blogosphere is a reactive space; you can put fires out just by responding.
As panelist Doc Searls loves to say, "Markets are conversations, and conversation is fire; therefore, marketing is arson." And you only need one match to start a fire. That's a lot of what blogging is about. It really shouldn't be about putting out fires; it should be about starting them — but in a positive sense. It's about introducing ideas into the blogosphere that can spread quickly.
Who You Gonna Call?
Clearly there's a lot more to blogging than the few minutes it takes to start a free blogging account on Blogger.com. It could pay to enlist the help of an expert before going into this half-cocked. A new cottage industry has emerged to shepherd companies through the ins-and-outs of the blogosphere: the industry of the professional blogger or blogging consultant.
Your company may already be represented in the blogosphere, and you just don't know it yet. One panelist made the assertion that more companies discover they have blogs inside them than ones that need to seek some kind of blogging advice. Nonetheless, a little sage advice from an experienced blogging professional couldn't hurt.
Where do you look for these experts? It's a little like advertising. You don't go around looking for advertising agencies. You look for companies whose advertising you really like and respect, and see who did it. Look around at companies with blogs that are really effective.
A consultant can help you set up a blog, help you to understand what your company might be blogging about, and help you to craft your posts so they'll be search engine friendly. It's difficult to take the software out of the box, start running with it and expect it to look good. In terms of search engine optimization, consultants can be helpful; and, let's face it, corporations need to optimize their posts.
By all means, hire in the skills internally to assist in developing your blog and your writing style. But, ultimately, you as the blogger should do your own writing and research. It's tempting to think of hiring a ghost-blogger to do the hard writing work for you, but that is not recommended. The law of the blogosphere is common law, and transparency is part and parcel of that law. The blogosphere can turn on you when it comes to light that the thoughts represented on your blog as your own are not your own.
And, finally, just to inspire you, here's a story about a tailor in London's Savile Row named Thomas Mahon. He's been blogging for just a few weeks (at www.englishcut.com). As of today, he's probably the top tailor in London. If you look him up on Technorati (he hasn't really made it much onto Google yet, but Technorati is really for stuff that's too new for Google), he's got 400 or 500 inbound links right now, and he's been in business for maybe two weeks on the Web. But he's the guy who's writing about what it is to be a tailor in London.
It's really quite amazing: He's gone from nowhere to everywhere online in his niche in a very short period. That's the power of blogging and online word-of-mouth marketing!
Tune in next week for part 2 of this article. Our experts dig deeper into the tactics and the technology of how to harness blogs for marketing, name their heroes and villains, predict what the future holds for the blogosphere and more!
Comments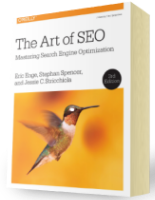 Chapter 7:
Content Marketing
From the fundamentals of link building to the nuances of natural linking patterns, virality, and authority.
Get Free Chapter