Blogging for Fun and Profit
Blogging is the next big thing on the net. A blog (short for "web log") is a web-based diary where the author can ruminate on whatever he or she likes. The blogger may share photos, poetry, political views, gossip or the latest on their personal or professional life. Many are updated daily. Blogs can have one or multiple authors (a community blog).
One in five teens between 12 and 17 maintains a blog, according to a US survey, and now corporates are catching on -from telecommunications company Verizon, to analysts Gartner Group, to small Sydney consultancy Step Two Designs. Here's mine: StephanSpencer.com.
There is a sound business case for blogging. It gives customers, suppliers and staff an inside view of how you think. After all, people buy from people, not some faceless corporate entity. Blogs draw in the visitor and make them return to see new posts. If done right, blogs can significantly increase visibility. Search engines – Google in particular – love blogs.
Why read a blog? Blogs provide a personal filter through the information glut, helping customers keep up with news and current events in their areas of expertise or interest.
Step Two managing director James Robertson writes a blog called Column Two, which has become his company's top client referral source. The blog, along with a compendium of his articles, accounts for 75% of new leads. Since the blog's launch in April 2002, web traffic has gone from 200 visitors a day to over 1500. Repeat visits per month have quadrupled. Robertson reckons blogging has been "the best online marketing I've ever done".
Blogging is here to stay. Google recently acquired Blogger.com, a service that hosts over 200,000 active blogs and claims over a million users.
Follow these tips:
Write blog posts as interesting links augmented with your own brief commentary, not in-depth articles or bland corporate-speak. Employ a conversational tone. Let your opinion shine through.
Encourage audience participation by allowing readers to comment.
Update your blog frequently. This garners repeat visits and better Google traffic – Google likes recent content.
Allow readers to subscribe to blog updates via email.
Use a blogging service like Blogger.com, LiveJournal.com or Radio.Userland.com. It makes maintaining your blog a breeze. Set up an "RSS feed" so people can syphon off your blog updates automatically using news aggregator software. On the road? Blogger.com and others allow you to post audio messages to your blog from your cellphone.
Provide multiple paths to your posts: a search engine, and browsing by category.
Register with various blog directories and participate in blogger communities. This refers traffic to you, and improves your blog's search engine rankings.
By Stephan Spencer. This article first appeared on Unlimited in May 2003.
Comments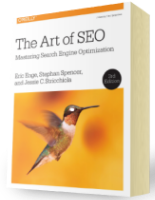 Chapter 7:
Content Marketing
From the fundamentals of link building to the nuances of natural linking patterns, virality, and authority.
Get Free Chapter