Netconcepts Reports 34% Year-over-Year Increase in Retail Natural Search Sales for Black Friday through Cyber Monday
MADISON, WI â?? December 2, 2009 â?? When consumers went looking for their holiday bargains this year, more than ever before turned to online search engines rather than standing in lines.
Netconcepts, a leader in natural search marketing conducted a study across a sampling of its online retail clients. These retailers averaged an increase of 34% in revenue from natural search over the same time period last year.
The study by found that Black Friday through Cyber Monday natural search trends were much higher for companies using best practices for natural search optimization. Their study included research from major online retail search clients using Netconceptsâ?? patent-pending automated natural search marketing technology, GravityStreamTM.
â??Our study shows that natural search is significantly outperforming the year over year retail growth numbers being reported for the 2009 holiday kickoff weekend,â? said Brian Klais, Executive Vice President of Search for Netconcepts. â??Sites optimized for natural search get their shoppers directly to the products they are seeking. Conversion rates for these shoppers are substantially higher as well,â? said Klais.
Netconceptsâ?? research further shows that Cyber Monday is not a one day phenomenon. Studies from recent years show that every Monday between Thanksgiving and Christmas continues to increase in traffic as the holiday grows nearer. Peak traffic occurs mid day in each time zone, indicating that most consumers are shopping and buying during their lunch hours.
***
Netconcepts, the leading provider of natural search marketing, offers automated natural search technology and value added services tailored to help retailers drive online sales. For the largest retail brands, Netconceptsâ?? GravityStream solution is an award winning, patent pending SaaS technology that powers the natural search channel. Netconcepts serves retail brands such as Cabelaâ??s, Northern Tool, Ann Taylor, Campmor, Woolrich, and Builderâ??s Square, among many others. Founded in 1995, Netconcepts is headquartered in Madison, Wisconsin, with offices in Auckland, New Zealand and Beijing, China.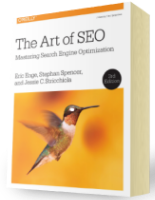 Chapter 7:
Content Marketing
From the fundamentals of link building to the nuances of natural linking patterns, virality, and authority.
Get Free Chapter