What it means to be an online marketer
An online marketer these days needs to have a breadth of skills under their belt including onsite marketing and offsite campaign implementation. Long gone are the days of purely focusing on banner advertising or email marketing.
Todayâ??s focus is on improving the siteâ??s visibility, accessibility, popularity, usability and measurability. Using the power of the Internet to ascertain market intelligence that is widely available online for free and other paid tools such as Hitwise and Nielsen NetRatings helps to make decisions for each of these areas.
What underpins all online marketing activity is â??searchâ?? marketing as search engines are responsible for delivering the majority of traffic to your website including traffic generated by offline media such as TV, radio, press, billboards and magazines. Ultimately all marketing activities, whether it is online or offline, influence what people search for on the Internet.
As a brand owner, it is important to recognise the role in which search marketing plays in the wider marketing mix and understand that it is more than sprinkling a handful of keywords on pages. Natural search marketing or search engine optimization is more than just keywords.
The first step of online marketing is to ensure that you have a search friendly, accessible and user friendly website.
Donâ??t assume that every programmer or web designer will know how to build a website that is balanced for the target market and major search engines alike. Many a website designer and developer are still stuck in the 90â??s using their old-school web design methods because that is what they are familiar with. Unlike your GP, they do not necessarily have to upgrade their skills every year. On the surface their websites are glossy and picture perfect; however under the bonnet it could be a different story.
Good websites allow search engines to easily access the content within it so the way it is built deeply impacts on whether â??botsâ?? can enter the door. When Google comes knocking, you definitely want to say â??come in, make yourself at home and by the way do you want milk with your coffeeâ???
A common misconception, especially in the advertising agency world, is that keeping â??on brandâ?? is only about the look and feel of the site. Many of these types of websites force all typography and copy into images thus preventing search engines from accessing the good words that are contained within.
Donâ??t get me wrong, I love flash animated sites, but creating a whole site out of flash is not doing the client and their target market any favours. Itâ??s all mouth and no trouser!
Even though you can use flash or image replacement technology to help the site along this is not an ideal situation. I dare say that Google has no intention in the near future to index flash pages because this technology is too complex for search engines.
Obviously the more pages that Google, MSN and Yahoo! are aware of within your site, the higher the probability of appearing in search results. A search engine friendly site that has 1,000 pages compared to a site that has 30 pages will have higher brand exposure through natural search listings than the latter.
Simply by typing into Google a â??site:www.yoursite.co.nzâ?? query command will enable you to know how many pages are being indexed in their database. A comparison between Noel Leeming (www.noelleeming.co.nz), Dick Smith Electronics (www.dse.co.nz) and an unknown brand Computer Lounge (www.computerlounge.co.nz) in New Zealand demonstrates that they have 4,930, 920 and 2,300 pages indexed respectively at time of writing.
Why is it that a small unknown quantity such as Computer Lounge has more pages indexed by Google than Dick Smith Electronics? Surely Dick Smith has more than 920 products on their site?
This is one indicator that the way the Dick Smith website is built is hindering search engines from accessing their product pages. Without pages being indexed, their visitor numbers, brand exposure and related sales will be much lower than what they should be.
Another indicator is that their pages have no PageRank score, a 0-10 measurement of how â??importantâ?? these pages are in the eyes of Google.
The advertising they have invested in including press and unaddressed mail influence people to search for those related products online. Yes when people search for the term â??dick smithâ?? they will be ranked number one in all major search engines mostly due to other websites linking to them using this term in the link anchor text, however with their current site they will find it extremely difficult to achieve good traffic for product related terms such as â??epson printerâ?? or â??palm pilotâ??. They are still to learn the power of the â??long tailâ?? where the majority of their sales will come from.
If Dick Smith Electronics are not ranking well for product related terms then they are opening themselves up to local and international competition to take advantage of the online demand they created.
Marketers need to remember that offline marketing activity influences what people search for online. If a company spends millions of dollars on television, print, radio and outdoor advertising but forgets to technically optimize and make branded and related non-branded words available on the site to search engines, then they are opening themselves up to their competition taking advantage of the marketplace generated online by their own advertising investment.
The focus is not only allowing search engines access to your website pages, but also to be a good corporate citizen by making the site accessible to vision impaired people. People who cannot see have site reader technology that reads a website very much like the way a search engine does.
A majority of websites on the Internet are not accessible. Essentially the reader software will read all navigation, copy and html code of a website out aloud to the user. If you were blind and a machine was reading out gobble-de-gook such as â??untitled document, table with one column and two rows, link logo1, nesting table, link graphic images logo2, image spacer clear, table end…â?? this would not make for a good user experience. And yet this is the case for majority of websites on the Internet.
Ensuring that the site has an accessibility statement, text that is resizable, all images, form fields and tables are labeled in the html of the site, CSS is used properly and â??skip linksâ?? are utilized to enable vision impaired people to navigate the site easily all contribute to creating an accessible site.
To enable a vision impaired person to browse the website and read navigation and copy easily, the site needs to be built using table-less development approaches using CSS (cascade style sheets) correctly by separating the layout and the structure of the site to create clean html code. This sounds very technical to the average marketer, but it is a little tip to help you gain brownie points with search engines and vision impaired people alike.
Are unaccessible sites discriminating against people who are blind? It is quite arrogant to think that vision impaired people do not surf the web. If your website is accessible it is most likely that it will be search engine friendly too.
Darren Fittler, a blind lawyer from Sydney who spoke at this yearâ??s Webstock conference in Wellington demonstrates online how his site reader called JAWS reads a website. This hour long video can be viewed in windows media format.
By people naturally linking to your website, search engines become aware of its level of importance and its popularity. However, itâ??s not about the number of the links, but more the quality of the links.
Believe it or not, the web is divided up into good and bad neighbourhoods so where the link comes from is equally as important. Links from government, education and non-for-profit organisations are more trusted by search engines than the usual .co.nz or .com site.
Since the Internet today is a competitive marketplace, raising the popularity of your site is increasingly becoming an integral component of an online marketing plan. Link building activities can include online pr, placing link bait on the site, blogging, content distribution, tagging, social bookmarking and good old fashioned advertising to raise the awareness of the site including PPC (pay-per-click) or banner advertising.
As well as getting the right words in the right places on your website, you need to get the words that you want to rank well for in search engines used in the anchor text of links going to your site. The words used in anchor text communicate to the search engine what the next page is about.
If many websites or blogs were linking to a page using the term â??epson printersâ?? in the text link, then this will help boost the ranking of that â??linked toâ?? web page for that term in search engine result pages. The way search engines think is â??If everyone is saying that this page is all about epson printers, then it must be true. Therefore we will show this page in our results when people search for this termâ??.
Achieving good quality links naturally under a Web 2.0 framework is both a science and an art. The game of online marketing has changed and good online marketers know this.
Comments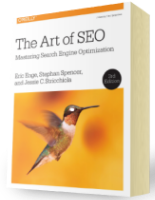 Chapter 7:
Content Marketing
From the fundamentals of link building to the nuances of natural linking patterns, virality, and authority.
Get Free Chapter