Be a Converter
Do you know your website's conversion rate? Do you know if it is above or below average for a typical merchant? The average conversion rate is only about 2.4%. How can you increase your site's conversion rate? Learn from Netconcepts Founder & President, Stephan Spencer about how to improve your organization's website to become a better converter. In this article for MultiChannel Merchant, Stephan discusses the use of Persuasion Architecture, how to design for different personality types, analyze your audience's needs and to adjust your tone.
Technology is not a means to higher conversion rates; it is just a tool that must be properly managed, configured, and implemented in order to reach your goals. Just having a great CMS with an advanced shopping cart system is not enough â?? there are no â??set it and forget itâ?? solutions for improving your conversion rate.
For more on this topic, read the full article here.
Comments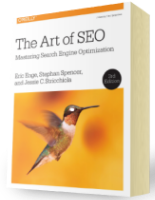 Chapter 7:
Content Marketing
From the fundamentals of link building to the nuances of natural linking patterns, virality, and authority.
Get Free Chapter