Backlink check?
Q: Are the links that are returned in a backlink check (using the link: command) ranked any way?
A: Not that I can tell. They are certainly not organized in order of PageRank score, which would have been nice. However, there's a great free tool from SEO Chat at http://www.seochat.com/seo-tools/pagerank-search that will sort and display the links by PageRank score for you.
Comments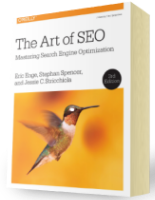 Chapter 7:
Content Marketing
From the fundamentals of link building to the nuances of natural linking patterns, virality, and authority.
Get Free Chapter