Anatomy & Optimization of a Local Business Profile
Many local companies depend upon their information's presence in various directories in order to advertise themselves, and the basic instrument of these marketing efforts is the Business Profile. The majority of businesses out there pay little attention to these beyond wanting their name, address, and phone numbers to be correct. However, there are far more components of business profiles beyond the bare basics, and this article will outline many of them and how they should be handled for best effect. Optimizing business listings and profiles can make all the difference in enabling potential customers to find you and in selecting you from your pack of competitors.
Most listings in yellow pages and local search engines may be comprised of just a basic name, address, and phone number. But businesses should take the trouble to add in as much of the other elements as they can since all the information provides differentiation and helpful information for consumers. In many local search and directory sites, most of the enhancement data can be added in for free, yet millions of businesses have never taken advantage of the full scope of free advertising available to them.
Here's an annotated guide to a comprehensive business profile for local listings in the U.S.:
Business name. While this element may seem straightforward, it's possible for you to adjust your company name or name usage convention in such a way as to derive more natural referral traffic online. While it's easiest to trademark a unique/esoteric name, if it's not combined with keyword terms that are most apropos to your business, you could miss out on some referrals over time. And, for a good many directories there is still alphabetic ordering going on, which can keep you ranking lower than if you could adjust your name to begin with earlier letters in the alphabet. "Xetera" might be distinctive as a gift shop name, but you might think of changing it to "And Xetera, Gifts" so that it might include your main keyword and rank high in alpha sorting.
Street address. A business's street address is one of the most important parameters for appearing in local search results and enabling consumers to locate their stores, but many businesses seem to be careless in correcting or adjusting them to function well online. There's lots of variation that can happen in how addresses are written, and the top online mapping systems don't universally recognize the variations and pinpoint them identically. I see many business addresses like "80 US 40" or something similarly user-unfriendly, which could potentially be interpreted a few ways, since roads might be cited in a few different formats: Rd, Road, Highway, Hwy, US, Interstate, F&M, Farm & Market Road, FM, H, I, etc.
In some areas, roads can be cited in multiple ways. Here in Dallas, Interstate Highway 35 is a major artery, but sections of it have been called different names, like: "North Stemmons Freeway," "R.L Thornton Freeway," I-35, I-35 North, and I-35 South.
Particularly sensitive are streets which have both a North & South or East and West version—there are cases where address on such streets can be incorrectly interpreted by search engines and mapping systems, resulting in bad maps/directions. For instance, "330 East Corporate Drive, Lewisville, TX" may not be interpreted the same as "330 Corporate Drive East, Lewisville, TX." Human users and postmen may interpret both correctly, but one variation may not work as well in online mapping and search. I won't regale you with the story of when I made up erroneous maps to my brother's wedding rehearsal dinner due to this common issue!
While a human user might see and interpret your address correctly, you should check to see if major online mapping systems like Mapquest, Google Maps, Yahoo Maps, and MSN Maps can pinpoint correctly as well. Mild correction or adjustment to how you write your address in each directory may ensure that maps and driving directions work.
Newer streets and addresses often causes businesses heartburn, as there is typically a one to two year time lag in getting the new streets to appear in online mapping systems. Nagging each of the top online map providers may help you get this fixed sooner in online maps.
Some local businesses simply do not have a fixed location and may operate out of their truck or something, such as in the cases of plumbers and contractors. In internet directories, local search engines, and online map sites, not having an address can be a big disadvantage. Local search engines often rank listings in order of proximity to a city center and only display businesses they can display on maps, and businesses with no address or post office box addresses end up being left out of results entirely.
If your business doesn't have a street address, I recommend that you rent a mailbox from a mail store or a UPS Store, and consider choosing a store that's close to the center of most of the online mapping services. Renting a box can give you a street address and will make you start appearing in many more online searches, nearly overnight!
Geocode. These are the hidden, numerical coordinate values which are frequently associated with address data in business directories. When directories, search engines, or mapping systems receive a new street address, they geocode the addresses, assigning the numerical longitude and latitude values to pinpoint the location. You don't need to worry about these unless your address is persistently pinpointed incorrectly in various systems. If it is, you might want to research out the best geocode for your business location, and then supply it directly to the directories which are not displaying the location pinpoint properly.
Sometimes addresses which can't be properly geocoded get defaulted to pinpoint to a city or zip code centroid, and there can be differences in geocodes which pinpoint to a spot in the middle of a street versus a rooftop accuracy pinpoint.
Some services may allow business owners to drag and drop map pinpoints to update geocodes behind the scenes.
Maps. Maps are an element cropping up alongside business listings, or listing pages often include maps pinpointing the listing locations. The address and geocode elements mentioned above most directly affect map accuracy. In some cases, maps and map features of an area don't reflect a precise, one-to-one relationship with reality, so even correct geocodes can pinpoint less than optimally in some systems.
City & state. Name of the city and state where your business is located. Be sure to use standard nomenclature with the city name, as opposed to colloquial nicknames (e.g., "New York," not "NYC" nor "The Big Apple").
ZIP code. Postal code for the address — some have asked me before whether it helps to include the ZIP+4. ZIP code is necessary, but I suggest against adding the plus-four extension. I don't believe it helps for precise pinpointing in local search and online maps, and it's primarily for post office routing.
Main telephone number. The phone number is often the gateway between a consumer and your business, so these naturally must be correct. One big mistake that some make is the insistence upon having directories display their vanity numbers—instead of just displaying the area code, prefix, and suffix, they may want their vanity numbers (alphabetic letters which represent each number key on a phone pad) to be displayed. Vanity numbers have been used by businesses in many forms of advertising because they were considered to provide a mnemonic aid to remembering the phone number, and because they may improve brand awareness or conversions.
I believe most directories may not allow vanity numbers to be entered for businesses, and there may be compelling reasons not to use them in online. The classic letter keypads are not available on many mobile phones, and the letters may not work in a number of VoIP services.
Secondary telephone(s). Secondary phone lines really help if you have too many calls to route through a single number/line. Using a secondary phone number in listings where it's allowed might be a good place to park the vanity version of your main phone number, if you have one and really want to use it. Otherwise, I suggest that you not alternate which number is your primary vs. secondary number in the various directories out there—keep the main number consistent so that aggregators and directories can easily keep the various data provider listings for you compiled into one main listing.
Fax number. Perhaps a feature growing less popular/necessary as internet communications continue to grow, but still useful in some particular business verticals.
Meta descriptions / Directory listing descriptions / Ad description text / Taglines. I'm grouping a number of these together because they're quite similar—many online directories like DMOZ have only a link to your business site along with a brief text description. In all these cases, it's important for you to be concise and accurate in describing what's unique about your business and include one/two main keywords that consumers would be using to find you.
Categories. In many directories, millions of businesses have been automatically assigned to a category. Businesses should check to be sure they're in the correct categories for their industry, and add on multiple other categories which are appropriate. This ensures that the listing will come up for business type searches as much as possible.
Keywords. Some services now allow one to associate keywords onto the profile. The way to make this work for you is to figure out what words users are using to type into yellow pages or search engines in order to find the type of business that you operate. For instance, if you are listed under an "attorneys" category, you might want to add a keyword for "lawyers."
Services, products, & brands. For a service oriented business, listing out the specific services that are provided is a must. What are the top few services you offer? Don't assume that just because you're categorized in a particular industry, you don't need to mention the obvious. For instance, a photographer listed under "Wedding Photographers" should state under Services that they "Provide wedding photos, formal bridal portraits, candid shots of wedding parties and rehearsals." Listing Products & Brands with a business can also help it to come up as more relevant for users' specific searches.
Specialties & amenities. The specialties & amenities are really important to provide attributes that can differentiate between you and your competitors. Specialties for a lawyer may bring in more clients who have cases for which they're particularly skilled. Amenities in hotel listings like pools, exercise rooms, free breakfasts, and others can draw in more business than nearly anything and are vital details.
Photos. For accommodations or specialty products businesses, including clear, large enough photos really help consumers in choosing.
Website URL. URLs, of cours, are the vanity phone numbers of the internet space, and the obvious conventional wisdom is that they should be short, descriptive, easy to spell, and contain good keywords. When listing your URL in directories, I suggest that you leave the "WWW" off as long as you've made sure the WWW and non-WWW versions of your domain name are functional. Leaving the WWW off the URL makes it shorter and makes the keywords or brand name stand out better. (See also the No-WWW Initiative.)
If you have a URL that you think may not be optimal, did you know that you could register a new one that works better and just aim it at your existing site? If you do that, you'll want to make one use a 301 redirect to the other so that search engines only index your pages on one main domain name.
Email address. Including an email address with a business listing can be as useful as a phone number, but there are caveats with it. There are apparently quite a lot of businesses which do not keep up with their email in a professional manner, and in these cases, having an email address can actually reduce referrals which might've otherwise come in via phone calls. If you list an email address, have it checked at least once per business day and respond to inquiries. If you can't commit to checking it, just don't display one.
Payment options. Showing payment options helps unless you're extremely restrictive about payment types—in which case, it can cause consumers to avoid the business.
Hours of operation. Listing times is quite helpful to everyone who works 8 to 5, but hours of operation should be considered a commitment or a contract which you won't ever break except on major holidays. There is nothing more irritating than showing up for a business only to find that they've closed early or they're only randomly open.
Logos and icons. Logos or listing icons can be eye-candy for a listings page, and they can attract attention and make a listing seem more professional. Avoid low-quality graphics and vague/weak promotional messages.
Areas served. You've already listed your city, so this parameter is where you list alternative or regional names and neighborhoods. "Upper West Side," "Nob Hill Neighborhood," and "Serving the Mid-Cities" are some examples.
Year founded & years in business. If your business has been running for two or more years, adding this can enhance consumer trust.
Associations—Minority owned / Chamber member / Religion / Environmental / Professional associations. In most cases, I'd say that listing out various associations typically helps gain new customers and rarely turns them off.
Certifications. Few consumers may know what's involved in obtaining various certifications, but listing out the ones you have is an indicator of your professionalism and expertise.
Languages. Listing out languages you can support is a no-brainer for getting some particular clientele who need alternate language support.
Professional endorsements & ratings. Few directories provide any option for listing endorsements, but for the ones which do, displaying quotes from major news media, well-known experts, and other recognizable companies can be effective. Quoting positive professional ratings you may have can help convince consumers of your worth and add the perception that your superlatives are not just hollow claims.
User ratings & reviews. While user ratings and reviews may get applied to your profile, you can still influence them to some degree. Rating values have become one of the most important factors for achieving rankings in various local search engines, so you shouldn't ignore them. Ask your particularly pleased customers to rate your business online in each of the major directories and local search engines. Some rating services allow you to respond to specific complaints or negative statements—do so. If you suspect that a competitor has falsely stacked the deck against you, complain to the company hosting the reviews and request that they look into it. Also, take a very hard look at your own shop and see if there are areas where you need to improve customer service—take criticism from customers seriously and look upon it as an opportunity to learn and improve. A few negative ratings or reviews can eventually become buried by consistently applying fantastic service. Do not try to fraudulently influence ratings by having you or your employees submit reviews, or you could get found out.
Prices. Prices can either be externally applied in a fashion similar to ratings, or some business categories may allow you to enter typical pricing information for your services. Restaurant profiles and other category templates may allow pricing info to be shown as a single value, a range from low to high prices, or as a symbol like one-to-multiple dollar signs. Make sure your prices accurately reflect the typical costs of what most users pay for your services. If a price parameter is allowed for your profile, you should assess whether it is expected or vital to your type of business. I've been very frustrated a number of times when viewing Restaurant websites, only to discover online menus with no prices. In a Restaurants category where many of the top listings may have the Prices element present, failure to display the parameter with your listing could result in far fewer customers as people can become disgusted or distrustful at the lack of info.
Following these tips, you should update and expand the data in your business profiles in all the major yellow pages, directories, and local search engines in order to maximize your online presence. Take advantage of the free advertising through all the business profile directories out there, and you'll start pulling your business ahead of the pack.
Comments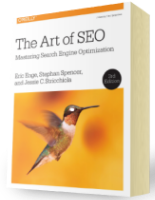 Chapter 7:
Content Marketing
From the fundamentals of link building to the nuances of natural linking patterns, virality, and authority.
Get Free Chapter