Expert perspective improves site traffic and conversion rates
"As the resource portal of the American Marketing Association, it's critical MarketingPower.com reflect best practices. But as any Internet executive knows, getting too close to your own website is a fact of life.
Netconcepts provided us with the expert perspective we needed to improve effectiveness of our entire site – from traffic to conversion rates.
Despite the sophisticated technology powering our site, the Netconcepts team understood our challenges and was able to engage in fruitful dialog. We found their advice helpful both technically and from a content standpoint.
As we execute our redesign, we plan to build on the foundational knowledge provided by Netconcepts. I would recommend any marketing executive turn to Netconcepts for a new perspective."
Bob Wallach
CEO
MarketingPower, Inc.
(subsidiary of the American Marketing Association)
Comments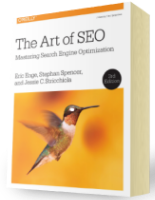 Chapter 7:
Content Marketing
From the fundamentals of link building to the nuances of natural linking patterns, virality, and authority.
Get Free Chapter