All About Site Searchiness
What are the key factors that separate websites that are found on page 1 in the search results from those on page 5? Pat Fusco, Netconcepts' lead search strategist went on to elaborate in this article for ClickZ. It all comes down to the site's search-worthiness (or searchiness Pat calls it). She suggests starting out by taking a panoramic view of your industry on the Web and the sites of your top ranking rivals. There's much to learn here. The road to top rankings is paved, first and foremost, with keyword selection, and there are tools to help you achieve this, as well as those all-important links to your website.
Comments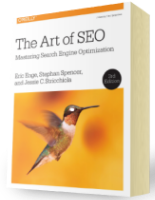 Chapter 7:
Content Marketing
From the fundamentals of link building to the nuances of natural linking patterns, virality, and authority.
Get Free Chapter