Screencast on Advanced SEO Tactics with Stephan Spencer and Rand Fishkin
Join our founder and president, Stephan Spencer, along with renowned search guru Rand Fishkin, in this archived webinar of an information-packed 131-minutes of advanced SEO tips and tricks. This webinar, for MarketingProfs.com, was called "Advanced Tactics in SEO: Part Art, Part Science". Ever wonder what the SEO pros know that you don't? What tools they use every day that you don't even know exist?
This screencast isn't about search engine optimization fundamentals. You will learn how to take your search engine optimization skill set to the next level, even if you're already a savvy search marketer.
Watch Stephan and Rand's webinar as a streaming Flash video »
Or, alternatively download/watch as a Quicktime (m4v) movie (77 MB).
Comments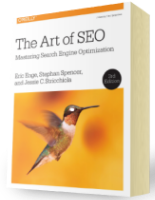 Chapter 7:
Content Marketing
From the fundamentals of link building to the nuances of natural linking patterns, virality, and authority.
Get Free Chapter