5 Tips for Multichannel Retailers Entering the Blogosphere
I was interviewed for a piece that just came out in Multichannel Merchant magazine called Defending yourself against the blogs. I contributed some tips for multichannel retailers who are considering blogging. Here's the full version of my tips (In the published article, my comments were edited down for space):
Create a "safe haven" to experiment with blogging. Set up a private blog on your intranet or extranet, or start a blog that's password-protected. Then offer access to that test to a selected audience. That will give your inexperienced bloggers comfort because they won't have having to worry that all of your customers, competition, and the media are watching their every move. They're trying to find your feet, so help them feel safe while they're doing it.

Decide on a permanent home for your blog. The web address you choose for your blog should be one that you will be happy with for years to come. Remember the early days of the commercial Internet, and many a business card included an earthlink.net or aol.com email address? It made it very painful to switch email providers. (I know people that to this day still pay their AOL subscription only because they don't want to lose their long-standing email address.) Similarly, it will become difficult to switch blog services if you allow the service to be part of your URL. For example, ehobbies.blogs.com, backcountryblog.blogspot.com, and sethgodin.typepad.com are all examples of blogs that are forever wedded to their blog platform — for better or for worse! If they switch platforms, all the links they've earned will be unavailable to their new blog. Links are the lifeblood of your search engine visibility, so the significance of this cannot be overstated.

You may want to utilize the domain name of your online store (e.g. blog.ice.com). Resist the temptation! In most cases, your blog will be more successful in acquiring links from other bloggers by being at an arm's length from your storefront, in other words by having a unique domain name (e.g. www.justaskleslie.com). Let me supply a hypothetical example. If a life insurance company has a blog about health and wellness and it's at www.stayinghealthy.com, then that will most likely garner many more links (and consequently superior search engine rankings) than one at blog.lifeinsuranceco.com — particularly if the former isn't too much of a hard sell for its life insurance products. (Remember, mastering the soft sell is the name of the game in the blogosphere.)

This may seem like an oversimplification, since I haven't discussed the branding implications, but I believe the "link-ability" of the blog is what will give your blog a long productive life in the blogosphere.

Once you've settled on a URL for your blog, publish something at that URL straight away. Even if it's merely some "Coming Soon" verbiage. This will help you establish a history for your new blog site and will help you avoid the "Google Sandbox" when the time comes for you to launch your blog for real. The Google Sandbox is a term used by us SEOs (search engine optimizers) to refer to the penalty Google applies to new sites with new domain names. Google created this as a deterrent to search engine spammers, but unfortunately legitimate marketers are often caught by this algorithm too.

Select a scalable, flexible, and user-friendly blog platform. There are so many solutions to choose from! Some are hosted services, such as TypePad, Blogger, and WordPress.com. Some are software packages that you install on your web server, such as WordPress, Drupal or Movable Type. Rather than pour over comparison charts, my advice is simply to go with WordPress (the software package, not to be confused with the hosted service at WordPress.com). WordPress is free, so the price is right. It's highly configurable, since it's "open source" and has a plethora of free, useful plugins written for it (I've compiled a list of my favorites). And it's got all the functionality you'd ever need, all wrapped up in an easy-to-use interface. After I and my team at Netconcepts did extensive research on blogging packages, we came to the conclusion that WordPress really is the best.

Decide on a posting schedule. Try to post at least three times per week. Allow several hours per week for this. I typically spend 2 to 3 hours per week blogging. Don't hire a ghostwriter for your blog, or you'll get slammed by bloggers for lack of transparency (an unwritten rule in the blogosphere). As far as retaining readers, recency is more important than frequency. A couple weeks of inactivity makes the reader feel like nobody's home. Conversely, having the latest post be only a day old makes the blog appear "fresh". Personally, I don't like keeping RSS feeds in my newsreader that haven't had recent activity.

Get respected bloggers on your side. Building relationships with respected bloggers is absolutely key. Not only will they be more likely to link to you, but they will also offer advice and bolster your "street cred." Posting thoughtful comments on their blogs is only the first step: do it enough and you may get on their radar, but it's not enough. Attend blogger conferences like BlogOn and Blog Business Summit and meet bloggers in person. Keep the dialogue going through email and through phone or Skype conversations. Become an evangelist for businesses blogging and you will really get them on-side.

Don't be afraid to enlist the help of an expert. Many highly regarded bloggers are available for paid consulting. I'd also suggest you work with a web designer who's very familiar with WordPress (assuming that's the blog software you decide on). That way they aren't learning on your dime, and they aren't trying to steer you towards an inferior package because they are more familiar with it.
Comments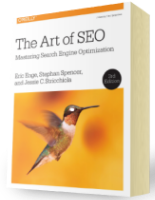 Chapter 7:
Content Marketing
From the fundamentals of link building to the nuances of natural linking patterns, virality, and authority.
Get Free Chapter