301 Redirect, How Do I Love You? Let Me Count The Ways
The 411 on 301s 24/7. Or in other words, the 301 redirect is probably one of the most powerful tools available to an SEO. Discover how to move your link equity from an old to new domain, deal with non-canonical domains that get indexed, how to best handle dead URLs and more.
Moderator: Danny Sullivan, Editor-in-Chief, Search Engine Land
Speakers:
Alex Bennert, In House SEO, Wall Street Journal
Jordan Kasteler, Co-Founder, SearchandSocial.com
Carolyn Shelby, Mercenary, CShel
Stephan Spencer, Founder & President, Netconcepts
Jonah Stein, Founder, ItsTheROI
Time:
4:30pm-5:45pm (1 hr 15 min)
Comments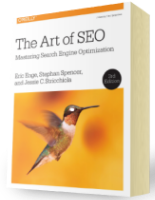 Chapter 7:
Content Marketing
From the fundamentals of link building to the nuances of natural linking patterns, virality, and authority.
Get Free Chapter