Client Case Study
HERE'S HOW I HELPED YOSHA LAW SIGN 60 NEW, QUALITY CASES WITHIN 6 MONTHS OF SEO IMPLEMENTATION
We didn't have to do any heavy lifting. We just woke up and found we were ranking for every single keyword we had hoped to rank for, and we were attracting more and more clients — and these were great people who really needed our help. If it hadn't been for our social media revamp and our website optimization, they may not have been able to find us.

Brandon Yosha
Trial lawyer, Yosha Law
BIG PICTURE THINKING WAS A GAME CHANGER FOR TURNING AROUND YOSHA'S BUSINESS
When it comes to personal injury attorneys, people have a wide array of choices. Unfortunately, they often go with the guy with the biggest smile on the biggest billboard ensuring people he will help them. Those law firms are mills that settle cases on the cheap. But Yosha Law is the real deal.
We wanted all of Yosha Law's content to connect to their mission to help people.
They are an esteemed family-run organization of award-winning attorneys who have a track record of going to the courtroom, holding insurance companies accountable, and obtaining full justice for their clients.
They needed to communicate the value they bring, and they were not successfully doing that. Yosha had worked with an SEO company previously, but there was a disconnect happening.
There was no collaboration, no sharing of ideas and no remarkable content was created. The result was a cookie-cutter, "us-focused" feel, that did not speak to the customers' pain points.
We encouraged Yosha Law to trust us in changing the look and feel of the website from structure to design and copy to effectively communicate their value. We shifted focus to going after organic traffic through high-quality content, and they were thrilled to be able to reach the victims that needed their help the most, so they could partner with them to seek justice. The primary KPI would be new case sign-ups, so that's what we intended to get for Yosha.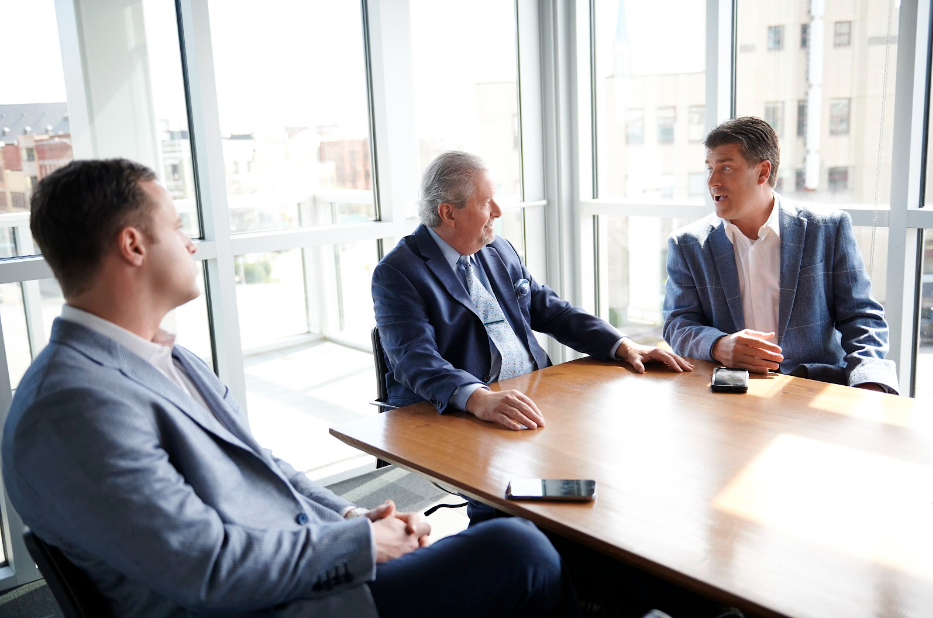 FIRST STEPS
We started out with high-level strategies like a Brandscript, then the team at Netconcepts got more granular, developing high-quality content with no fluff. All the while we were working on a deep website overhaul. I could see immediately that these articles we started putting out would be a useful read for anyone. And then the organic keyword ranking started to happen right away. After the first 3 or 4 months, we were ranking for several coveted keywords in our domain.

Brandon Yosha
Trial lawyer, Yosha Law
YOSHA LAW'S WEBSITE OVERHAUL, SOCIAL MEDIA REVAMP, COMBINED WITH PUBLISHING NEW BLOG ARTICLES RESULTED IN:
124% INCREASE OF IMPRESSIONS & 19% INCREASE OF CLICKS
KEYWORD SUPERSTARS
Within 5 months of engagement, Yosha Law was on page one (top 5) of Google for
Indianapolis car accident lawyer
Indianapolis truck accident lawyer
Indianapolis personal injury lawyer (the graph represents US ranking position evolution)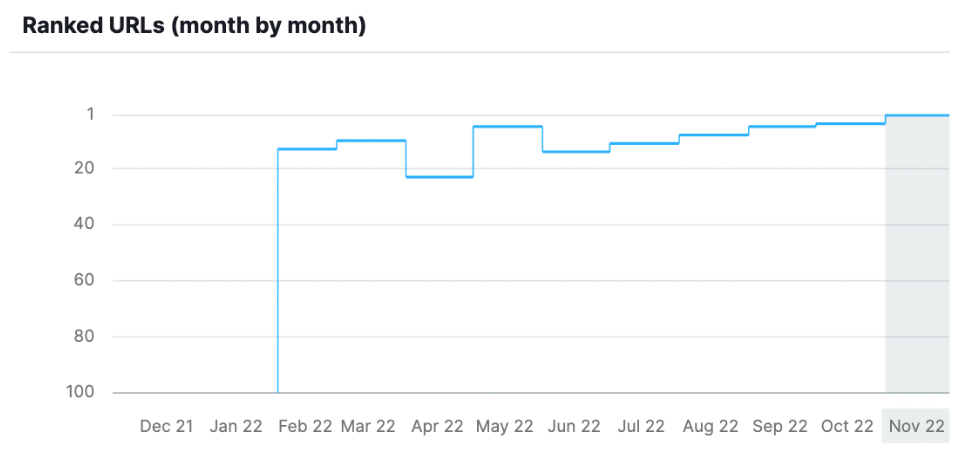 SOCIAL MEDIA REVAMP
Social media was an area where we saw a huge opportunity. Rather than focusing on quantity, we focused on quality. We created original, remarkable, client-focused content that got views, gained new followers, and really made an impact.
Before: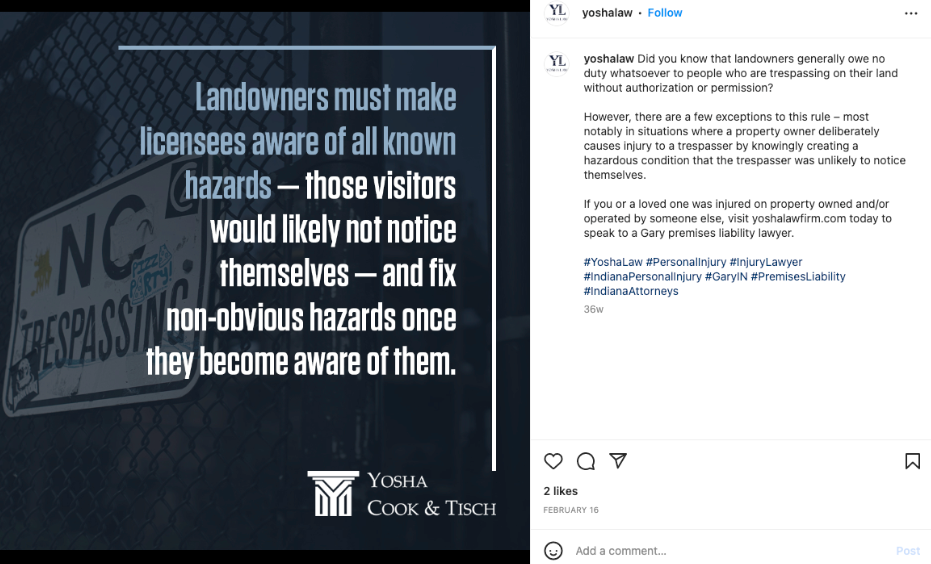 After: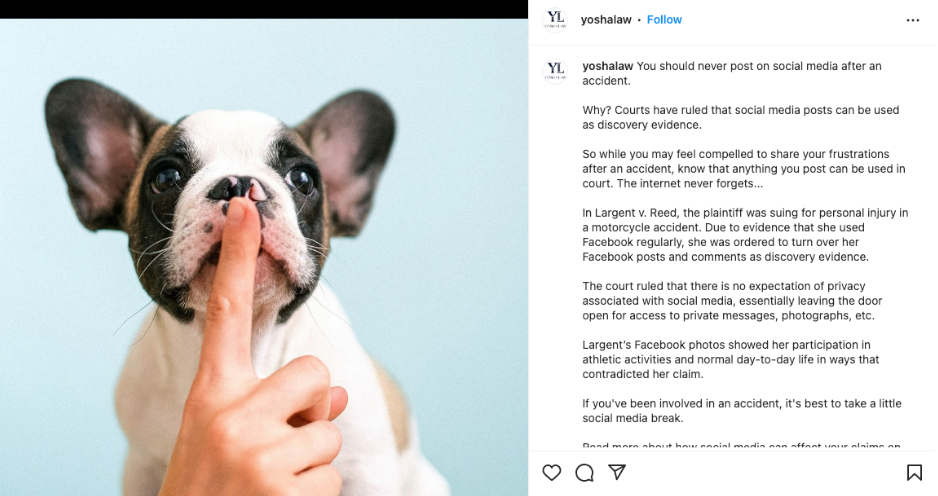 Social media is a powerful marketing tool that not only gives you exposure as a thought leader, but also builds community and humanizes your brand. We focused on Instagram because we felt there was huge potential for Yosha Law to make an impact there.
As many as 70 percent of consumers turn to Instagram to find inspiration for their next purchase.
Though the attorneys at Yosha Law were excellent communicators in the courtroom, their social media did not tell that story. They were concerned about the "time suck" element of social media, but were pleasantly surprised that our team did all the heavy lifting, with little or no work required on their end. 
In the first five months, their Facebook follower count grew by 216% and their Instagram followers by 458% — which led to increased engagement, increased website visits,  and new client sign-ups.
In just one month — September, 2022 — Yosha signed 12 new cases. And in October, 2022, they have reported that they signed 15 new high-quality cases.
In December of 2022, Yosha signed a record 12 new motor vehicle cases — the same number of motor vehicle cases that were signed in all of 2018. In fact, 23 total new cases were signed in December 2022.
STEADY MONTH-OVER-MONTH IMPROVEMENTS
From February, 2022, to October, 2022, the website saw a 230.83% increase in organic users.

I'm generally someone who thinks big, but Stephan got me to think bigger. Much bigger. Netconcepts took a stagnant personal injury site to preeminent levels.

Brandon Yosha
Trial lawyer, Yosha Law

Preeminence has only just begun!
In just 10 months, we have been able to achieve phenomenal results that convinced Yosha Law to stay onboard for ongoing SEO, conversion, social media, and content marketing consulting. We are looking forward to continuing to help Yosha Law dominate in the SERPs and shatter profit records for the company!