Client Case Study
How We Took Everipedia's Pinterest Account From 31 Monthly Viewers To Over 1,000,000
Everipedia is heralded in the press as "The new Wikipedia." However, Everipedia has much more to offer than Wikipedia. While covering everything Wikipedia does, Everipedia's is fundamentally an Encyclopedia of Everything. Its core strength lies in the fact that it covers many subjects Wikipedia doesn't (and won't.) Everipedia uses blockchain technology to help fulfill a vision for a world where all knowledge is available to all people. They have succeeded in taking the Online Encyclopedia into the Modern Age.
Everipedia came out of the gate with a finger on the pulse of the new. A prime example of this is the famous rapper, Cardi B. Everipedia created a page for Cardi B a good two years before Wikipedia deemed her 'famous' enough, despite her major career milestones and existing public awareness. Wikipedia removed her page multiple times.
Missed Opportunity: Pinterest
Another core strength of Everipedia is its wealth and up-to-date range of good quality subject images. While Everipedia has a robust social media presence on Facebook and Twitter, Stephan recognized that Pinterest was an overlooked platform, perfect for showcasing Everipedia's prodigious daily output of quality content while simultaneously yielding great SEO results.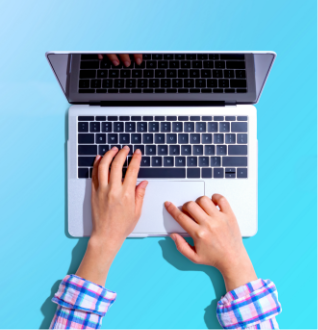 Before starting
This happens more often than one might think. At the outset, a company will create social media sites across the board. The focus then tends to fall on one or two platforms. When companies return to a fellow social media platform, they then discover there is an existing account and the name has been taken.
If the account cannot be retrieved, it creates all kinds of issues over ownership of the company name. Before going the arduous, time-consuming route of trying to claim an account from a platform, first, check/contact the employee who created other social media accounts – ask them to check their emails, sometimes going back years. Nine times out of ten, bingo.
Strategy
It is important to come up with a theme for Pinterest boards business accounts that immediately and accurately reflect the essence of a company at a glance. You want to establish the Who, What, When, How of a company without ever opening a board.
With Everipedia our kick-off idea was 'Movers and Shakers'. This framework accurately reflected the essence of Everipedia. Everipedia showcases established and rising stars in industries across a broad spectrum who are impacting society. Whether they be scientists, entrepreneurs, content creators, journalists, you name it, Everipedia has them covered.

Having a solid theme makes things simple by providing a framework for categorizing and creating new boards.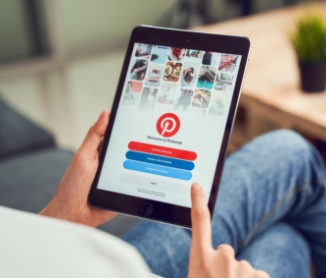 Method
Having firmly established the themes, an intensive period of building and creating boards followed. We made sure to title each pin rather than allowing Pinterest to lift the title from the accompanying text. (Titling vastly improves views as do hashtags.) Once reaching a milestone amount of views, we then switched over to small amounts of daily pinning. Daily pinning is key to maintaining and growing
the account.
Results
At 30K monthly views, the Everipedia Pinterest account grew legs! Four or five daily pins yielded gains of 13K to 15K daily views eventually bringing it up to 3M views. This analytics overview shows the engaged audience went up 120% in 30 days.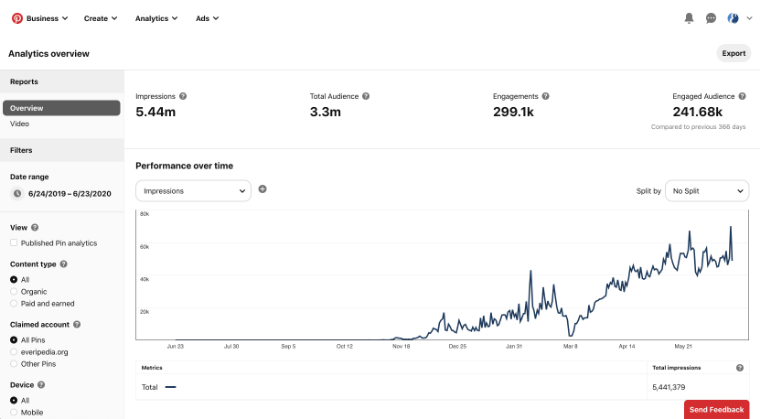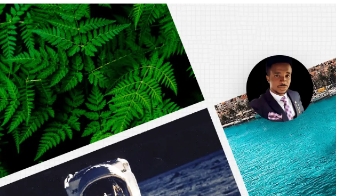 Benefits
Everipedia is constantly creating new content, whether it is highlighting the fashion colab between Columbia outerwear and Star Wars, a yoga yurt in Indonesia, or a photograph by photographer Sam Rowley featuring a pair of mice fighting over a scrap of food at a London tube station. With most of the world suddenly working remotely and spending more time on their devices, Everipedia is there providing compelling content that is highly shareable across every social media platform.