Yahoo brings the locals together
"What do you get when you mix social media and local search?" asks Stephan Spencer, President of Netconcepts. In this article, posted on C|Net's Searchlight: an SEO Blog, Stephan talks about how Yahoo! has opened up new features to blend social interaction on a local level, and how it will affect local businesses. For more information on this interesting subject, click here to read the article.
Comments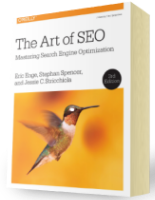 Chapter 7:
Content Marketing
From the fundamentals of link building to the nuances of natural linking patterns, virality, and authority.
Get Free Chapter