SEO Report Card: Littlepixiegifts.com.au
A SEO review of this site and the Best Practices in use, as well as opportunities for new optimization. Analyst Jeff Muendel of Netconcepts goes through the site with a fine tooth comb. Learn from his findings on how to analyze your ecommerce website and tweak it in time for holiday traffic.
If Little Pixie Gifts has an SEO weak point, it is in the URLs. As search engines spider the URL addresses along with title tags and page content, each URL should reflect the keyword theme of the page. Instead, Little Pixie Gifts has URLs like http://www.littlepixiegifts.com.au/cart.php?target=category&category_id=62. While such a URL doesnâ??t necessarily hurt things from a search engine perspective, it certainly doesnâ??t help.
To read the full article, visit Practical Ecommerce.
Comments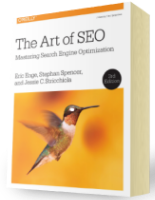 Chapter 7:
Content Marketing
From the fundamentals of link building to the nuances of natural linking patterns, virality, and authority.
Get Free Chapter