Netconcepts Helps Sites Stand Out
"On the Internet, a Web site without visitors is akin to the proverbial tree that falls without anyone to hear it." In this profile piece by the Wisconsin State Journal, reporter Jason Stein investigates how web agency Netconcepts uses search engine optimization to supercharge the websites of online retailers. Stein talks with Steve Spangler, CEO of Steve Spangler Science and Gene A. Wright, Netconcepts' VP of Sales and Marketing, on the success of SEO and the latest techniques used to get search engines' attention.
Comments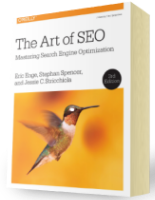 Chapter 7:
Content Marketing
From the fundamentals of link building to the nuances of natural linking patterns, virality, and authority.
Get Free Chapter