When SEO Isn't Really SEO
Do you know what the difference is between SEO and online marketing? Confused about the terminology? In this article featured on Practical eCommerce, Jeff Muendel discusses how SEO is a specialty within the online marketing field.
By definition, SEO refers to the process of optimizing a website with the goal of having major search engines (primarily Google, Yahoo! and MSN Live Search) return pages from that website in highly-ranked search engine results. SEO is almost always employed as a form of marketing, but it is a very specific form of marketing that takes place within the search engines.

Lately, some industry blogs have suggested that SEO has grown beyond its primary parameters, suggesting that successful SEO includes expanding into other realms of marketing. I don't think that makes any sense. By definition, SEO – search engine optimization – does not include any form of marketing that goes outside of search engines. The use of the term SEO in such a way is disingenuous and confuses many webmasters and owners of ecommerce sites.
For more about this controversial topic, visit the full article on Practical eCommerce here.
Comments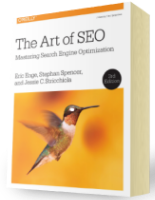 Chapter 7:
Content Marketing
From the fundamentals of link building to the nuances of natural linking patterns, virality, and authority.
Get Free Chapter