Blog on
Russell Brown, Auckland author for Unlimited, conveys the message of marketing change. (as foretold in The Cluetrain Manifesto) Today's consumers do not have the same shopping trends as they did 5 years ago. If companies want to compete and capture a piece of the market share, they need to seriously focus on the consumer's needs and wants.
Blogging is a vital part of the marketing mix needed to accomplish this.
Brown references how modern day marketers are making the Web a better place. One of these marketers is Netconcepts, Founder and President, Stephan Spencer.
â??It puts a human face to your company,â?? says Spencer. â??It helps position yourself as a thought leader. Itâ??s great for networking, as you end up building relationships with other bloggers.â??
Read this entire article to learn best practice tactics used by successful markets to increase their market share and acquire new to file clients.
Comments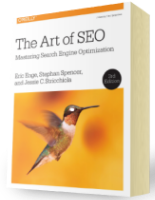 Chapter 7:
Content Marketing
From the fundamentals of link building to the nuances of natural linking patterns, virality, and authority.
Get Free Chapter