Three Questions to Ask before Initiating an SEO Strategy
PJ Fusco, lead strategist for Netconcepts, looks at three basic questions merchants need to consider before putting out a RFP for a major new SEO strategy. Things like looking at the business objectives for the web site, reviewing historical web stats (you don't know where you're going if you don't know where you've been), and using web analytics to determine your target audience. You'll also need to agree on how far you're prepared to go to improve your site's web traffic. As a regular contributor to ClickZ, PJ stresses in her article the need to do your homework first.
Comments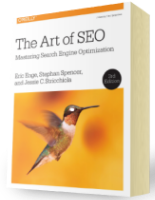 Chapter 7:
Content Marketing
From the fundamentals of link building to the nuances of natural linking patterns, virality, and authority.
Get Free Chapter