The Simpsons & Great Participatory-Viral Marketing
"The Dallas Kwik-E-Mart is one of the eleven created nationwide out of 7-Eleven stores, and itâ??s a simply fantastic piece of viral marketing, participatory marketing â?? and yes, linkbait," writes Chris Smith in this article on the Natural Search Blog. Viral marketing and link bait are today's buzzwords in search, and what better way to glean ideas for your business than to see a successful campaign in action? Find out what happens when TV-meets-reality in this interesting experiment, and what it could mean for you. You can read the article here.
Comments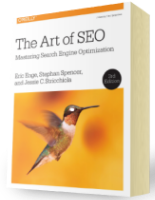 Chapter 7:
Content Marketing
From the fundamentals of link building to the nuances of natural linking patterns, virality, and authority.
Get Free Chapter