The Long Tail and prioritizing your time on design and SEO
I am a big fan of the Long Tail, the term coined by Chris Anderson, Executive Editor of Wired Magazine to refer to what happens in economics when the bottlenecks that stand between supply and demand in our culture start to disappear and everything becomes available to everyone.
In this article I found it quite interesting that UIE applied the concept of the Long Tail to prioritizing where you spend the bulk of your time on design and usability. Sure, there are a few pages that get a large chunk of traffic, such as the home page, but that doesn't mean that that is where you should spend most of your design time. Instead look at the buckets of pages that add up to a large chunk of your traffic. For example, if all of the articles on your site add up to a large amount of your traffic, then you should spend a reasonable amount of your time in your redesign focusing on the articles template.
I think this same argument applies to search engine optimization (SEO) as well as to design. If your product pages account for 50% of your traffic, half of your SEO time should be spent on the product pages (rather than your articles, FAQs, etc.).
Spend your time on the tail!
Comments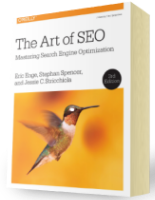 Chapter 7:
Content Marketing
From the fundamentals of link building to the nuances of natural linking patterns, virality, and authority.
Get Free Chapter