The Duplicate Content Debate
One of the hot topics in SEO is the debate over duplicate content. Many retail websites might carry the same products across multiple domains; news-related websites and articles might be found in multiple places all across the web. Lead strategist for Netconcepts, Patricia Fusco responds to the issue of duplicate content by saying, "This challenges search engine algorithms to be smarter and faster when presenting users with definitive, relevant search results — usually the original content source."
Whether you are already aware that you have duplicate content across several domains or not, duplicate content could be a cause for concern from an organic search and a search engine spider perspective.
Read "The Duplicate Content Debate" here and find out whether or not you should address this issue for your own sites.
Comments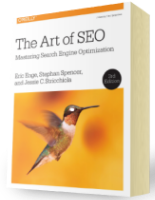 Chapter 7:
Content Marketing
From the fundamentals of link building to the nuances of natural linking patterns, virality, and authority.
Get Free Chapter