Social Disclosure
How do you communicate with your customers and build your brand? Are you talking at them, or do you have an online dialogue with them? Stepping into social media allows merchants the opportunity to speak to customers and build a brand-loyal community. This requires loss of some control, since customers will be generating their own content. It is worth the investment. Written for Multichannel Merchant, Netconcepts President Stephan Spencer and analyst Tim Gill discuss the benefits of social media for merchants.
Retailers can leverage this dialog to gain insight into marketing research, generate product feedback, conduct merchandise testing, and initiate product improvements. By taking a dialog approach to social media instead of a louder, flashier version of commercial interruption, you can learn what consumers want, and how they want it, on a one-to-one basis.
For more on this topic, read the complete article here.
Comments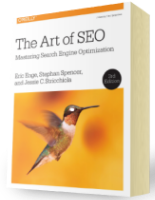 Chapter 7:
Content Marketing
From the fundamentals of link building to the nuances of natural linking patterns, virality, and authority.
Get Free Chapter