SEO Report Card: Seenon.com
In this month's edition of the SEO Report Card on Practical eCommerce, Netconcepts Jeff Muendel takes an in-depth look at Seenon.com, a celebrity fashion site. From home page content to what Jeff calls "an attractive and aggressive design," this is a good website audit to read for the trendy and stylish.
This month's report card website is Seenon.com, an ecommerce site that tracks the fashion tendencies of the famous and sells those garments and accoutrements to interested consumers. The site is pleasant to the eye and has an exciting, almost urgent feel to it, but how does it do in terms of search engine optimization? Not bad at all actually, and to that end, I thought it would serve as a good example of attractive and aggressive design that does not come at the expense of SEO.
For more about this fashion site web audit, visit Practical eCommerce here.
Comments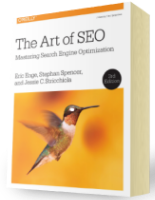 Chapter 7:
Content Marketing
From the fundamentals of link building to the nuances of natural linking patterns, virality, and authority.
Get Free Chapter