SEO Report Card: Pinkorpunk.com
In this edition of the SEO report card, Jeff Muendel reviews eCommerce site pinkorpunk.com. This niche eCommerce site sells accessories that (you guessed it) are either pink or punk. This website audit is especially helpful for other new eCommerce sites, since pinkorpunk.com launched quite recently. Here's a little bit about what Jeff has to say about this unique boutique.
Pinkorpunk.com is a fairly new website, which may partially explain its PageRank of 0. But, the other factor in the ranking is the site's small number of inbound links. Yahoo! sees 45 links from outside sites while Google doesn't list any at all. Inbound links translate to PageRank, and higher PageRank translates to better search engine results. This site, with its vibrant content, should have no problem garnering links! A linking campaign is in order here. Research online directories and get listed in those that still have decent PageRank (many have been recently demoted by Google in that regard). A blog is also in order, especially with such hip content. Online press should be a target as well, as should social media avenues like MySpace, Flickr and Facebook.
For more about this niche eCommerce store, visit the Practical eCommerce website audit here.
Comments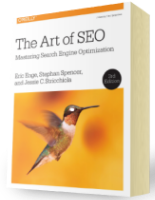 Chapter 7:
Content Marketing
From the fundamentals of link building to the nuances of natural linking patterns, virality, and authority.
Get Free Chapter