SEO Report Card: agoodyarn.net
In this SEO report card on Practical eCommerce, Jeff Muendel, Search Analyst for Netconcepts, writes a full review of an all-about-yarn ecommerce store recommending that they redesign the site to be more search-friendly.
Jeff's expertise begins with a critique of their home page:
I always harp on having a sitemap linked to the home page, and while some sites need it less than others, Agoodyarn.net could benefit from one almost immediately. A sitemap, which is a page that has links to all the major categories an subcategories of a web page, helps search engines through all the sections of a site. It can also be a shopping asset for customers. Almost all of the textual content on the home page is set as link text. Not only does this water down the keyword promotion that the links might garner, but itâ??s also just plain spammy. While it may not be the webmasterâ??s intent, this is a form of link stuffing, and it is frowned upon by search engines. The siteâ??s title and logo text, â??Fine yarn, classic patterns and odd notions,â?? are not textual but graphical, and therefore invisible to the search engines.
Be sure to read the full article for how simple fixes and a savvy re-design of their eCommerce site can boost this yarn retail store's website and their overall SEO.
Comments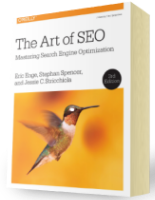 Chapter 7:
Content Marketing
From the fundamentals of link building to the nuances of natural linking patterns, virality, and authority.
Get Free Chapter