SEO Report Card: Juvieshop.com
The site focuses on hip, modern and stylish adolescent clothes for tweens (ages 7-12). Juvieshop.com is just over one-year-old and the site has built a PageRank of 3 for its homepage. Its theme is wholesome and the site is pleasant to the eye.
Jeff Muendel, Search Analyst for Netconcepts, covers a hip site that is targeted toward a specific age group in this website audit.
Jeff writes his recommendations based on his review of benchmarking, their Flash-rich home page, PageRank, title tags, and URLs. One of the most useful tips that Jeff provides is with regards to building links.
Inbound Links and PageRank
PageRank for the home page of the site is 3, which is low. This is easily explained by the number of inbound links the site has. Google sees exactly one link from an external site. Yahoo sees 909 links coming in, which is below average for an ecommerce site. Why the difference between the search engines? Yahoo! and Google are different technologies that simply â??seeâ?? a different number of links. In actuality, the â??realâ?? number of links is most likely either number, and those numbers should be thought of as benchmarks or estimates. Regardless, a link-building program is in order here. PageRank is built primarily on the number of quality, inbound links to a given site. The higher the PageRank, the more likely it is that pages in a site will come up in Google and other search engines for a given query. High-quality directory submissions, like DMOZ (Dmoz.org), are definitely in order, which can help boost PageRank (and therefore search results) of a linked-to site. Remember, directory submissions (the act of submitting oneâ??s site to directories) are an important part of an overall link building strategy. Juvie also has a blog, which can also attract inbound links, but it has not been updated in roughly two months. Fresh content is imperative for attracting traffic and potential links.
In this way, Jeff relays that targeted keyword themes and great on-page SEO aren't the only elements necessary to ensuring a site's SEO benefit — directory submissions, blogging, and fresh content are "imperative" to increasing inbound links over time and garnering good PageRank.
Comments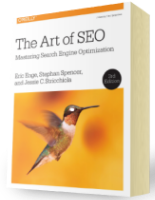 Chapter 7:
Content Marketing
From the fundamentals of link building to the nuances of natural linking patterns, virality, and authority.
Get Free Chapter