SEO Report Card: Back40books.com
According to the siteâ??s â??About Usâ?? page, Back 40 Books is run by back-to-nature people and the books they sell on their site are predominantly focused on issues related to that lifestyle. It also sounds as if the website was put together by these same outdoor people with little help from web professionals. This is to be commended, but everyone needs a little help sometimes.
In this SEO Report Card featured on Practical eCommerce, Netconcepts' Search Analyst Jeff Muendel takes an in-depth review of this online bookseller. From recommending "permanent, textual content on their home page" to reflecting on keyword themes and the use of JavaScript and how it affects crawlability of the site, this review highlights areas that many online retailers could keep in mind, in order to improve their site.
In conclusion, Jeff remarks that,
"There are many intriguing and educational books on Back40books.com, and that rich content needs to be better reflected from the home page down. While product pages do feature decent content that is both focused and reflective of potential keywords, even their content could be improved, at the very least by the use of header tags. Get all that Javascript bloat off the pages and into .JS files on the server! Keywords reflected in title tags and URLs will further optimize the site to take full advantage of what search engines have to offer."
Comments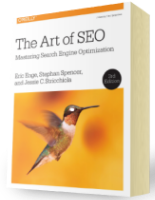 Chapter 7:
Content Marketing
From the fundamentals of link building to the nuances of natural linking patterns, virality, and authority.
Get Free Chapter