SEO Report Card: Link Building Could Improve Strong Site
Candlesandsuch.com is a website run quite frugally by its two main proprietors. For a site that hasnâ??t had a lot of professional help with regard to search engine optimization, it possesses some positive SEO attributes. Thatâ??s not to say there arenâ??t issues, but some of the main facets of good SEO are observed and incorporated.
In this SEO report card originally featured on Practical eCommerce, Netconcepts' Search Analyst Jeff Muendel takes an in-depth look at how inbound links and sculpting PageRank can help improve the overall site.
Jeff writes how the ScanAlert Hacker Safe logo "bleeds PageRank away from every page, so add NoFollow tags to these links." Here, the placement of the logo is also an issue since it's "among the first pieces of code a search engine spider sees on each page. Moving the logo further down the page would be better." Another valuable find that Jeff discovered was the fact that this site's error pages were not delivering the proper 404 code, so outdated pages are not dropped from the search engines' indexes.
In conclusion, Jeff recommends that:
A good link building campaign is what this site needs most! Read Stephanâ??s article called â??Weaving A Web Of Linksâ?? for great suggestions on getting started. With that and a few technical changes, Candles And Such will have a website that is optimized at an above-average level. Once inbound links begin to build, they should reap the benefits of their SEO.
Comments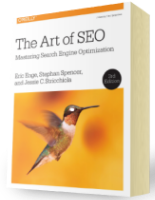 Chapter 7:
Content Marketing
From the fundamentals of link building to the nuances of natural linking patterns, virality, and authority.
Get Free Chapter