SEO Report Card: Beachaudio.com
In this website audit published on Practical eCommerce, Netconcepts' founder and President Stephan Spencer reviews one of the Internet Retailer 500 companies, Beachaudio.com. Stephan's review came at a key moment for their business; they had performed an SEO overhaul of their site back in April.
Beach Audio did a complete search engine optimization overhaul using in-house staff in April, and ever since, the search-generated sales have been rising steadily. Currently, organic search from Google accounts for about 10 percent of website sales, and the outlook continues to look good, especially with the holidays and their peak season right around the corner. Nonetheless, I see a lot of unrealized potential here.
From sculpting PageRank to improving title tags site-wide, Stephan's review showed that this successful business could earn more potential from specific SEO-related tasks. For example, he recommends that:
Strategically passing link juice within the site is an underutilized SEO secret. I was impressed to see Beach Audio employing this to a limited degree. Specifically, some of the navigation links have been nofollowed (e.g. Order Status, Customer Help Center, Testimonials, Email Us, Check Shopping Cart, My Account, FAQ, About Us, Shipping Info), but this has been done inconsistently (e.g. in the page footer, Order Status and Customer Help Center are both missing the nofollow). There is link juice going to pages that are not strategically important, such as the Hacker Safe verify page and the latest product reviews.
On the search engine optimization side, he also recommended that the title tags be improved site-wide by tightening up their keyword focus and addressing the fact that "Beach Audio" is at the beginning (and end) of each title tag inconsistently. Stephan recommended that: "Putting that at the end is better than at the start, but best of all would be to remove it altogether to tighten up the keyword focus. Also remove the list of model numbers from title tags on category pages."
These recommendations were written specific to Beachaudio, but can also be relevant to any retail site. Be sure to visit the full article for more technical details.
Comments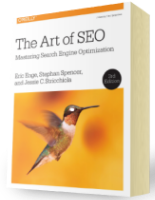 Chapter 7:
Content Marketing
From the fundamentals of link building to the nuances of natural linking patterns, virality, and authority.
Get Free Chapter