SEO Report Card: VeganStore.com
As a recently turned vegetarian (as of a year ago), I'm definitely in the target market. Too bad it's unlikely I would have discovered the site. That's because I'm not strictly vegan, and the site isn't targeting "vegetarian" as a keyword. The only occurrence of "vegetarian" on the home page is in the meta keywords â?? and meta keywords don't affect rankings (at least not positively!).
Stephan Spencer, founder and President of Netconcepts, reviews Veganstore.com in this article from Practical eCommerce.
Stephan's primary concern with the site is that the keyword theme is pretty generic, not including the terms "vegan" or "vegetarian" next to really, popular terms like "shoes" or "food." His recommendation to go after the "long tail" will help their site get found for their target market. He writes further that:
Going into the â??Shoesâ?? category page, there is an H1 heading tag containing "Shoes." But again this is a similar issue to the anchor text pointing to this page: the word "vegan" is noticeably absent. Also, the title tag begins with the word "Shoes" instead of "Vegan shoes." Additionally, this page is particularly problematic, in comparison to other category pages, because there are only two links to go deeper into shoes: "Shoes by Style" and "Shoes by Brand." There is no list of different styles, nor a list of brands (e.g. New Balance and Wanderlust). Add those brand names and styles to this page and make them text links.
While many of the URLs are crawlable, Stephan indicated that they were still problematic because some of them included too many hyphens and other "links slipped through the cracks and don't use the rewritten URLs, such as the links in the breadcrumbs, thus leading to duplicate page indexation and PageRank dilution."
Comments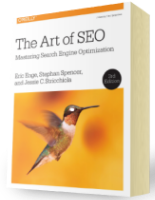 Chapter 7:
Content Marketing
From the fundamentals of link building to the nuances of natural linking patterns, virality, and authority.
Get Free Chapter