SEO: Is Your Site Holiday-ready?
Those of you with school-age children may have been preoccupied with back-to-school, but now itâ??s time to start preparing your site for the holidays. The holiday shopping season is not that far off, so get on with implementing these traffic-building tips in order to achieve maximum search engine visibility.
Stephan Spencer, President and Founder of Netconcepts, offers five useful tips in this article from Practical eCommerce to ensure your online site is ready for the retail season.
What follows is a brief summary of these invaluable tips to increase your customer sales and make sure your eCommerce site will be up-to-date for the holiday retail season…
For the full article, go to PracticalEcommerce.com.
1. Build Your Links
"By acquiring a handful of links from high PageRank-endowed relevant sites, you will automatically enhance your siteâ??s worthiness in the eyes of the search engines," Stephan writes. He recommends that you not only build links slowly and naturally over time, but that you also take a look at your existing in-bound links to see if there is any benefit you can gain from changing the anchor text to something more keyword-rich.
2. Participate in the Blogosphere
Stephan recommends that companies "leverage the power of blogs for SEO." From commenting on other people's blogs to managing resources by padding "draft" posts throughout the holiday season, the blogosphere can have a positive impact for many retail companies.
3. Re-Organize Your Internal Links
By modifying your internal link structure to fit buyer behaviors for seasonality, you will help your customers find what they're looking for easily. Stephan writes that, "Donâ??t trash your existing siteâ??s navigation, simply augment it with additional links containing keyword-rich anchor text, to create shortcuts that pass PageRank to your popular holiday categories and products."
4. Escape the Code Freeze
Many retail companies reallocate their IT resources to ensure their sites can handle the holiday traffic, which means that your site's SEO may stagnate. "One way around this stress-inducing "time crunch" is to implement a third-party proxy platform like GravityStream. Such a system allows you to implement optimizations to the proxy throughout the holidays, quickly and easily, without impacting your native site," writes Stephan as a way to get around this issue.
5. Wrap Your Gifts
"With giveaways like "free gift wrap" and "free shipping" you'll attract holiday shoppers because youâ??re providing them with real value. Incorporate powerful messaging (e.g. "free gift wrap," free shipping") into your Google snippets by adding them to meta description tags," writes Stephan in this last tip. Here, Stephan recommends that retailers target buyers by using savvy SEO to ensure they not only find what they're looking for, but are encouraged to shop online.
Comments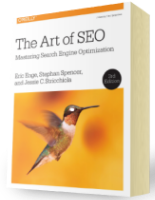 Chapter 7:
Content Marketing
From the fundamentals of link building to the nuances of natural linking patterns, virality, and authority.
Get Free Chapter