Organic Search Interview with Elastic Path
In this engaging interview with Dave Olson, Marketing Coordinator for Elastic Path Vancouver, Netconcepts' VP of Search, Brian Klais discusses his first-hand knowledge of organic search.
In this podcast, Brian focuses on the knowledge and on-going expertise needed to succeed in the organic search market. SEO Best practices can be found anywhere, (just search Google). However, how are you scaling optimization across your entire website? Which techniques will light the most search engine bulbs? How can my keywords open the door to the Long Tail of Natural Search? Listen as Klais answers these questions and shares his expertise on the latest techniques used to get found through organic search.
Interview conducted by Dave Olson, Marketing Coordinator for Elastic Path (Elastic Path podcast 24) on Tuesday, February 13, 2007.
Comments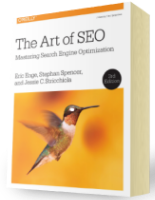 Chapter 7:
Content Marketing
From the fundamentals of link building to the nuances of natural linking patterns, virality, and authority.
Get Free Chapter