SEO: In or Out, Part 1
Online entities, large and small, are asking questions. Will they save money by hiring an in-house search engine marketer (SEM), or should they outsource to a team of professionals? Netconcepts' lead search strategist Pat Fusco writing for ClickZ says a company's marketing goals and budget will largely determine the answer. However, she says SEO is an ongoing process and, many larger organisations cannot see the forest for the trees.
"Working with an agency helps in-house marketers stay on top of shifts and changes on the Web and in other industries that could affect the company's ongoing online marketing strategy. As a result, the insight an agency offers can be invaluable to the business."
Comments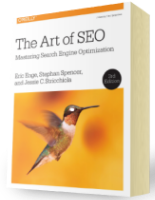 Chapter 7:
Content Marketing
From the fundamentals of link building to the nuances of natural linking patterns, virality, and authority.
Get Free Chapter