Search Engine Strategies Experts on Web Feeds, Blogs & Search
In a panel presentation at Search Engine Strategies in New York, Netconcepts' President Stephan Spencer joined other experts in encouraging companies to get on board with blogging, RSS and SEO.
Mr Spencer's motto for getting the most out of RSS is "Give It Away" – and make it easy for your readers to subscribe to your offerings. And when it comes to content, the world's your oyster. Store promotions, clearance specials, upcoming events, new arrivals are gimmicks that will keep the search engine juices flowing.
Comments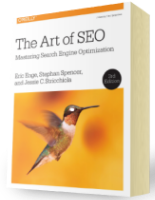 Chapter 7:
Content Marketing
From the fundamentals of link building to the nuances of natural linking patterns, virality, and authority.
Get Free Chapter