Productivity Tips For The Busy Search Marketer
Just having the right tools isnâ??t enough to save time. Instead, you might need the right techiques, as well. Plus, maybe you need to change your frame of mind on how you approach some tasks. After a busy conference, a fun session on how to be more productive, before you head home!
Moderator: Matt McGee, Assignment Editor, Search Engine Land
Speakers:
Thomas Schmitz, SEO Analyst & Social Media Consultant, Portent Interactive
Jennifer Slegg, Owner, JenSense
Stephan Spencer, Founder & President, Netconcepts
David Wallace, CEO/Founder, SearchRank
Time:
2:45pm-3:45pm (1 hr)
Comments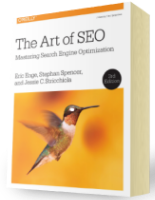 Chapter 7:
Content Marketing
From the fundamentals of link building to the nuances of natural linking patterns, virality, and authority.
Get Free Chapter