PPC: In or Out Part 2
In part 2 of this article for ClickZ, Netconcepts' lead search strategist Pat Fusco goes on to say that while PPC advertising and SEO strategies may have the common foundation of keyword research, that's where the similarities end.
Should you hire an in-house SEM, external agency, or both? Pat says it primarily depends on your online marketing goals, marketing budget and risk management mindset.
What about buying your way into top rankings? There are seven fundamentals of any PPC campaign as Pat highlights…
Comments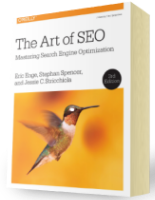 Chapter 7:
Content Marketing
From the fundamentals of link building to the nuances of natural linking patterns, virality, and authority.
Get Free Chapter