Own Your Own Catchphrases in The Engines
P J Fusco's unscientific survey shows marketers are still missing the boat on PPC. Selecting only jingles and buzzwords that didn't include brand names, she decided to see if the big names were putting their money where their mouth is when it comes to the Web. And the results were surprising, says Netconcepts' PJ Fusco in this article for ClickZ.
Comments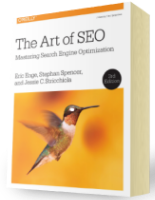 Chapter 7:
Content Marketing
From the fundamentals of link building to the nuances of natural linking patterns, virality, and authority.
Get Free Chapter