Searching for Better Returns
Working with large companies such as AOL, telecommunications company Verizon and search engine company Infospace, Netconcepts' President Stephan Spencer shares his tips about what companies have to do to remain high in the Google search results.
"We do specialised audits that just cover only search engine optimisation. We also do more holistic audits – there are plenty of companies out there that have a large internal web team and want to make sure they're not missing anything."

He says that more than 70 per cent of clicks go through to unpaid search results rather than sponsored links.

"If you don't have good placement in search engines it's equivalent to having an unlisted phone number for your business," he says.

"It will become much harder over time to achieve high rankings as more businesses become more savvy about search engines. As search engines change their algorithms and become more personalised it will also become harder.

"Most people when they do a search on Google look first to the unpaid search results.

"If a site is ranking well, they'll get a sense of implied endorsement. To a lesser degree people will look at the sponsored links on the right-hand side."
Comments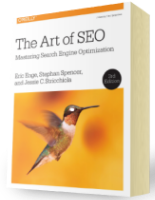 Chapter 7:
Content Marketing
From the fundamentals of link building to the nuances of natural linking patterns, virality, and authority.
Get Free Chapter