Website builders now better by design
Website design is more than just the design of a site. President of Netconcepts, Stephan Spencer said in an inteview with the New Zealand Herald that sites need to be designed with SEO in mind.
Keywords, category listing, search engine optimization and navigation are all essential components, along with site support and monitoring services.
Comments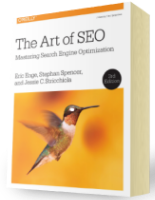 Chapter 7:
Content Marketing
From the fundamentals of link building to the nuances of natural linking patterns, virality, and authority.
Get Free Chapter