News Release: Todd LaBeau Joins Netconcepts
Agency Contact
Bill Arnovich
Misukanis & Odden
[email protected]
952.400.0342
Natural Search Engine Firm Netconcepts Welcomes New Senior Technical Analyst
Netconcepts, a premier natural search engine firm, proudly announces Todd LaBeau as its new Senior Technical Analyst.
Madison, WI, May 9, 2007 â?? www.netconcepts.com â?? Netconcepts, the premier natural search firm enabling a leading tier of the top 200 Internet Retailers to â??get foundâ?? online, is proud to welcome new team member, Senior Technical Analyst Todd LaBeau to its Madison, WI office.
LaBeau will begin immediately shaping Netconcepts future as part of its GravityStreamâ?¢ team. GravityStream, a performance-based SEO management platform, is currently helping companies like Cabelaâ??s to increase online revenue as a direct result of attaining Page 1 Google rankings for unique, yet highly-competitive search terms.
As a seasoned web-development veteran, LaBeau has perfected the art of implementation and analysis of a variety of website technical and structural issues. In addition to his technical and analytical expertise, LaBeau is an effective manager and collaborator. Most recently, LaBeau was the eCommerce Manager at Highsmith, Inc., a multi-million dollar eCommerce channel and a leading distributor of supplies and equipment to libraries and schools.
â??Iâ??m excited to work for NetConcepts because of their strong dedication to partnerships with their clients,â?? states LaBeau. â??From natural search optimization to evolving products like GravityStream, Iâ??m happy to ensure that our clients will â??get found.â??â??
About Netconcepts, LLC
Netconcepts®, LLC, is committed to arming top Internet retailers with online strategies and technology platforms designed to increase online sales. With proprietary technology and processes including GravityStreamâ?¢ and GravityMarketâ?¢, online retailers will â??get foundâ?? on the search engines. Online retailers succeeding with the aid of Netconcepts, include Discovery Communications, Northern Tool, Home Shopping Network, Kohlâ??s Department Stores, REI, and Cabelaâ??s among other brands. Netconcepts is based in Madison Wisconsin with a production facility in Auckland, New Zealand.
###
Comments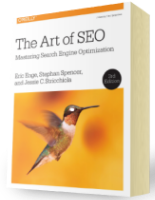 Chapter 7:
Content Marketing
From the fundamentals of link building to the nuances of natural linking patterns, virality, and authority.
Get Free Chapter