News Release: Stephan Presents
Contact: Boone Sesvold, Marketing Coordinator
[email protected]
608-285-6600 ext. 109
1-888-207-1109 Toll Free
For Immediate Release
Global Internet Expert Stephan Spencer Presents
New Advertising Strategies and Blogging Trends at US Conferences
Netconcepts Founder and President Speaks on East, West Coasts
MADISON, WI (March 1 2006) â??Stephan Spencer, Founder and President of Netconcepts, a leading global Web technology agency, will present his ideas on Really Simple Syndication (RSS) used in advertising and the latest Search Engine Optimization (SEO) trends at the New Communications Conference 2006 held in Palo Alto, California.
Both conference sessions are a part of the â??New Advertising Strategiesâ?? track. Spencerâ??s first session, â??RSS as an Advertising Platformâ?? focuses on how RSS is a growing form of media and allows readers to directly influence the content they wish to receive. Through RSS, readers can specifically sign up and determine what they will and will not read. Spencer will discuss this increasingly popular form of media and further explain the many opportunities RSS offers in the advertising world.
â??Iâ??m very passionate about blogging and SEO and how these key innovations are changing the way we conduct business,â?? Spencer said. â??The presentations really focus on providing advice and showing how businesses can create solutions to achieve their E-Business goals.â??
Spencer also will be a featured panelist that same day on â??Trends in SEO.â?? This discussion will focus on natural search as well as paid search techniques. As part of the panel, Spencer will discuss the benefits of SEO and show examples of successful SEO in comparison to various industry competitors. For further information about the New Communications Conference 2006, visit www.newcommforum.com/index.php.
Prior to the Palo Alto conference, Spencer spoke at the Search Engine Strategies 2006 conference in New York City where he presented on â??Blog and Feed SEO.â?? The New York City presentation highlighted the benefits of blogging and RSS in providing search engines with content to â??spiderâ?? through personalized Web pages.
â??These two media formats will extend a companyâ??s customer base by expanding the parameters of corporate sites, merging their sites further into the â??real personâ?? side of the business,â?? Spencer said.
***
About Netconcepts, LLC
Founded in 1995, Netconcepts is a Web technology agency specializing in natural search optimization consulting, including the industry's only performance-based Proxy OptimizationTM Service. Netconcepts offers search-friendly E-Business design and development services for such retail brands as Northern Tool, Home Shopping Network, Kohlâ??s Department Stores, REI, and Cabela's among other brands. Netconcepts has offices in both Madison, Wisconsin and Auckland, New Zealand.
###
Comments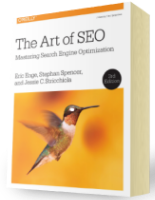 Chapter 7:
Content Marketing
From the fundamentals of link building to the nuances of natural linking patterns, virality, and authority.
Get Free Chapter